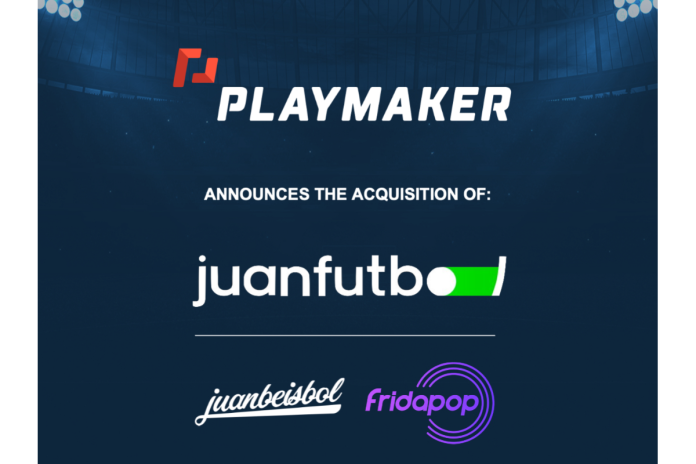 Playmaker Capital, the digital sports media company that delivers authentic content experiences through its portfolio of sports media and technology brands, has acquired 100% of the digital assets of underdog dba JuanFutbol (JuanFutbol), operator of an assortment of widely popular social media and digital channels as well as leading sports-focused web properties from Soccerly SAPI de C.V., to accelerate Playmaker's growth in key Mexican and US Hispanic markets.
JuanFutbol delivers authentic digital soccer content to more than 6 million social media followers across Facebook, Instagram, Twitter, TikTok, and YouTube. Collectively, JuanFutbol's social media content generates a monthly reach in excess of 50 million. The acquisition of JuanFutbol also includes baseball-focused asset, JuanBeisbol, and women's-focused sports property, FridaPop. JuanBeisbol introduces the first baseball-oriented brand to the Playmaker ecosystem, a top 3 sport in Mexico with strong year-long levels of interest and engagement. FridaPop will complement Playmaker's other female branded asset, Redgol Fem in Chile, and directly contribute to a concerted effort to increase coverage of women's soccer and elevate women in sport globally.
Playmaker brand, Futbol Sites, will integrate JuanFutbol's team of experts in branded content to enhance the execution of sponsored campaigns in the region and more broadly across Latin America and the US. JuanFutbol's strong track record of partnering with top-tier brands adds market leading relationships and reputation to Playmaker's direct selling capabilities. The Mexico City based team that includes social media experts, media planners, creatives, video editors, copywriters, designers, and data scientists will be critical in supporting high-value brand partnerships ahead of FIFA World Cup Qatar 2022 and beyond.
"Since the first day of 2022, we knew this year would be a critical one for JuanFutbol as each World Cup year presents great opportunities. We feel very fortunate to partner with Playmaker, which we believe is the ideal group to take JuanFutbol, JuanBeisbol and FridaPop to the next level. Playmaker's commitment to building the most relevant ecosystem in digital sports media is unprecedented and we are proud to add our brands and experience to their successful ride," Miguel Ramirez Lombana, CEO & Co-Founder of JuanFutbol, said.
"JuanFutbol is one of the most respected and recognized brands within the sports media industry in Mexico. It is a fantastic complement to our existing portfolio in Mexico and puts us in a unique position in this market. Less than 4 months before the start of the FIFA World Cup Qatar 2022, it allows us to have a unique offering in terms of quality and reach for advertisers. Cracks, Bolavip and JuanFutbol together form an unstoppable attack front," said Federico Grinberg, Playmaker EVP and Futbol Sites CEO.