Colorado Sports Betting's $25.6 Million Debut Among Best First Months of any State, According to PlayColorado Analysts

Colorado's first month of sports betting topped the debut month of most of the largest markets in the country, even without a major sport to bet on. But the state's much-delayed first official data release on Monday — which confirmed that Colorado's sportsbooks generated $946,741 in operator revenue on $25.6 million in bets in May — is merely a glimpse into the bright future for Colorado's sports betting market, according to PlayColorado analysts.
"Considering the circumstances of its first month, Colorado debuted about as well as any market could," said Dustin Gouker, lead analyst for PlayColorado.com. "Ultimately the revenue that was driven while sports were mostly dormant is less important than sportsbooks launching and engaging sports bettors so they're ready when major sports resume. By that metric, Colorado's launch was a success."
Only Indiana, which attracted $35.2 million in bets when retail sportsbooks launched in September 2019, produced a larger handle in its first month of legal sports betting than Colorado. And the Centennial State compared well with other, more established betting markets during the same month. In fact, Indiana, the country's fourth-largest sports betting market, accepted $37.3 million in wagers in May, while Oregon recorded far less than Colorado with $7.3 million.
Anecdotally, it is likely the two largest brands in U.S. legal sports betting — DraftKings DraftKings Sportsbook/Golden Gulch Casino and FanDuel Sportsbook/Golden Gates Casino — led the Colorado market in its first month. But the state did not release data on individual operators.
More brands are coming, too. SBK Sportsbook/Bronco Billy's Casino and Sky Ute Sportsbook/Sky Ute Casino and Resort have already launched this month. And possibly dozens of online and mobile sportsbooks are expected to open in Colorado.
"One of the primary reasons why Colorado fared well in its first month is that the top brands were ready to go from the beginning," Gouker said. "Having FanDuel and DraftKings, in addition to BetMGM and BetRivers, accepting bets on the first day of operation is unprecedented. It shows just how much confidence operators have in the future of the Colorado market."
With Colorado's 10% tax rate, the revenue generated in May injected $96,538 into state coffers. But PlayColorado projects that the state's handle could eventually reach $6 billion a year or more, so tax revenues will undoubtedly grow.
Before that happens, the sports world needs to reopen. $7.9 million of Colorado's bets were placed on sports categorized as "other" than football, basketball, baseball, or myriad other sports. Remarkably, table tennis generated $6.6 million in bets while bettors were limited in May mainly to golf's The Match: Champions for Charity, four nights of UFC fights, NASCAR, Bundesliga soccer, and Korean baseball.
"The real test won't likely come until August, when presumably baseball, the NBA, and the NHL are in play, and the NFL season gets closer," Gouker said. "But sportsbooks are laying the groundwork for a quick start. And that will be important once sports do resume."
SOURCE PlayColorado.com
Gaming above and beyond: NOVOMATIC launched exclusive V.I.P. X series in Las Vegas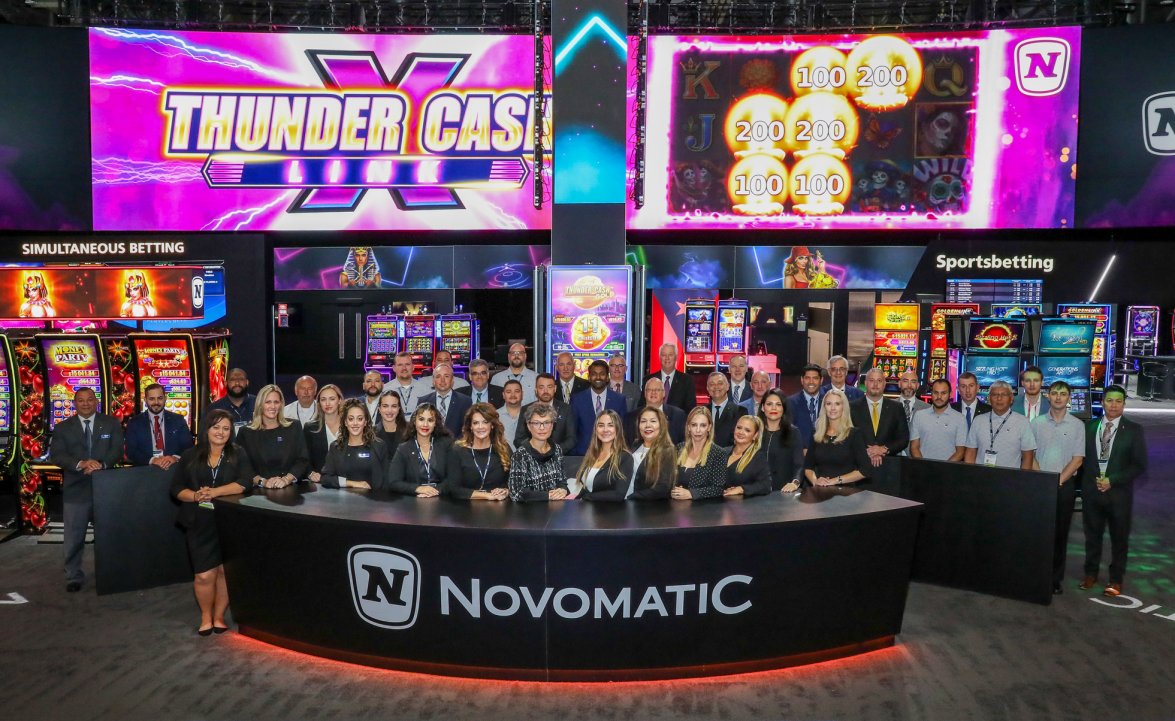 It was a truly striking show appearance: With a fresh and inspiring redesign of the stand set-up and a diversified product range, NOVOMATIC created a special kind of visitor experience.
New trends for the US market
NOVOMATIC Americas presented outstanding cabinet versions of the DIAMOND X™ series with a special focus on Linked Progressives game content. The top-performing DIAMOND X™ 1.55J and DIAMOND X™ 2.32 cabinets with captivating games were explored by visitors with overwhelmingly positive feedback.
Rick Meitzler, CEO of NOVOMATIC Americas, is delighted with the outstanding success of this year's show: "Our booth in Las Vegas was exceptional, and we were genuinely excited to showcase our products that promise one-of-a-kind gaming experiences. Our highlight at the event was the DIAMOND X™, which currently stands as the most powerful cabinet in our product lineup. With a strong focus on Linked Progressives, VGT game content, our new J-Curve sports betting kiosk and our NOVOVISION™ Casino Management System, NOVOMATIC Americas has truly made an impression with our new product offerings."
THUNDER CASH™ GOLD, a brand-new Linked Progressive, was launched with a range of new titles including Irish Locks™ and Irish Grace™. Refreshingly fruity gaming entertainment is guaranteed with MONEY PARTY™ Fresh!. The two pharaohs of RISING TREASURES™ take players on mystical Progressive adventures to discover hidden jackpot treasures. In addition, the Diamond Link™ Progressives product line was presented for the first time for the US land-based market by APEX. NOVOMATIC Americas has the distribution rights for North America for APEX gaming products such as the Clover Link™ and Clover Link Extreme™ Progressives product lines.
Next-level sports betting was also on show with the brand-new NOVOMATIC ActionBook™ Edge 1.43J: As the perfect sports betting kiosk for any environment, with state-of-the-art graphics and blazing fast response time, it offers a unique betting experience. NOVOMATIC Americas' leading sports betting kiosks are experiencing steady growth in the US market as more states legalise sports betting and casino operators expand their offerings accordingly.
Another US premiere was staged in the ETG area of the NOVOMATIC stand: In addition to the ETG platform NOVO UNITY™ II with simultaneous betting options as well as the latest slant top cabinets EXECUTIVE SL™ 1.27 and LOTUS SL™ 1.27, the stunning fully automated TITAN ROULETTE™ by FAZI with four player stations, a fully automated Roulette wheel and an integrated display solution was presented.
The iGaming offering from Greentube, NOVOMATIC's digital gaming and entertainment division, perfectly complemented the land-based portfolio with its ever-growing range of online content, including NOVOMATIC classics as well as proprietary brands and solutions.
A special debut was the presentation of the innovative NOVOVISION™ casino management system in the US, which was awarded "Best CMS/Software Product" at this year's European Casino Awards in London. This powerful solution takes all areas of the casino operation to a new level, with a uniquely comprehensive range of functionalities that go far beyond traditional accounting, jackpots, player tracking, CASHLESS and TITO transactions. As a special unique selling point, NOVOVISION™ introduces biometric technologies for the management of gaming operations, e.g., for player recognition and access solutions.
The Very Important Player X-perience
For the international markets, NOVOMATIC presented an exclusive premium product line for the first time at the G2E in Las Vegas. The V.I.P. X Royal™ 1.85, the V.I.P. X Dream™ 3.43 and the V.I.P. X Lounge™ 2.32 offer exceptional luxury gaming with exquisite V.I.P. comfort, extra-high and wide gaming screens and an integrated sound system in the comfortable chair that ensures an intense player experience and maximum immersion. Discerning operators know that every player deserves to feel like a V.I.P.
Thomas Schmalzer, NOVOMATIC VP Global Sales and Product Management, emphasizes the exceptional success of the trade show: "It was a great opportunity for decision-makers in the industry to experience the NOVOMATIC product portfolio in its great variety. By providing products and solutions to all market segments from casinos to arcades, "limited" markets, as well as VGT/VLTs, our broad diversification is a key factor for our success worldwide. The enthusiasm of the booth visitors, from Argentina to Canada and from South Korea to Iceland, shows us once again that we meet the needs of our customers with strong performance, innovative strength and full commitment. In this way, we are pushing forward on the NOVOMATIC growth trajectory in the North and South American markets as well as internationally. We appreciate all our visitors and loyal customers for making this a great show. Together, we are proud to be setting global benchmarks with our extraordinary gaming experiences!"
AGS is Dropping Hits at G2E 2023: 'Best Slot Product,' 'Best Table-Game Innovation,' '#1 New Indexing Online Games'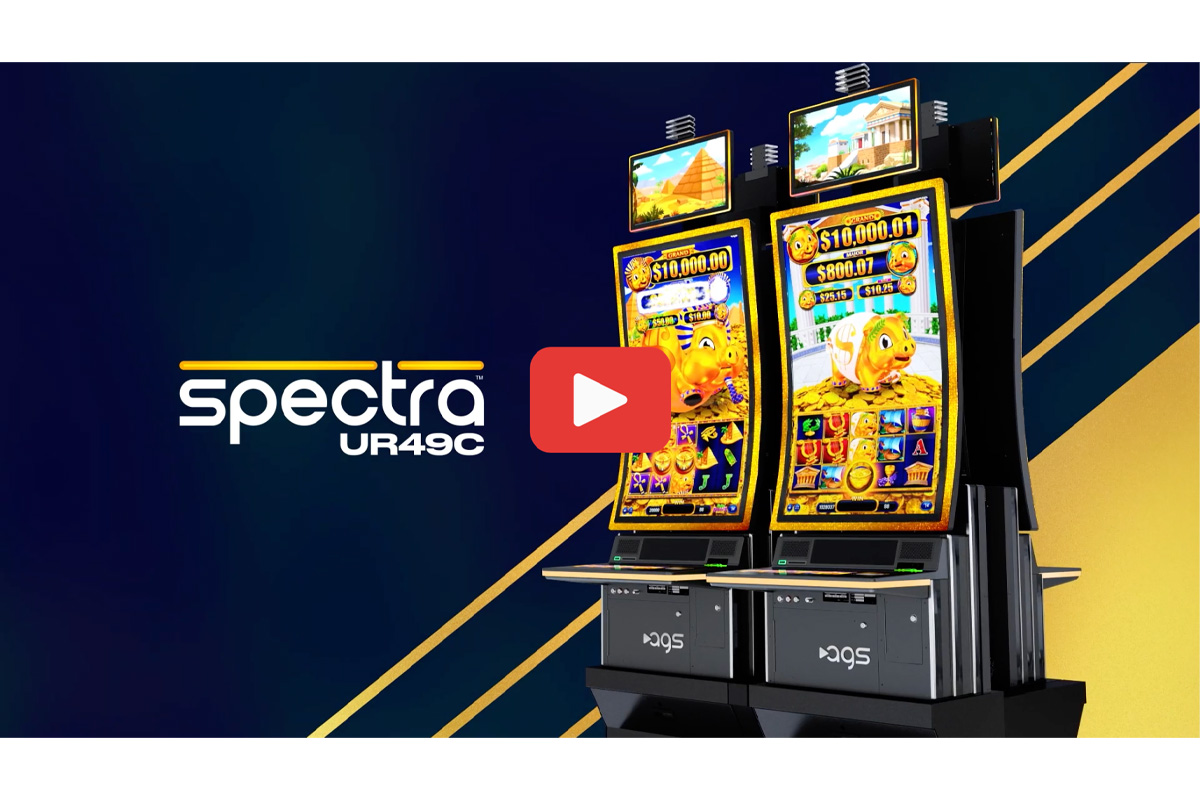 The 2023 Global Gaming Expo ("G2E") in Las Vegas, to be held October 10 to 13, marks the beginning of a new era for PlayAGS, Inc. (NYSE: AGS or "the Company"), a leading supplier of high-performing slot, table, and interactive products and services to the global gaming industry.
At G2E, AGS invites customers "backstage" to experience a legendary lineup of star-studded products taking center stage at booth 1253, including a new slot cabinet, game themes and product configurations, as well as innovative table enhancements and a turbo-charged lineup of new interactive game content.
Drop It Like Its Slot: Spectra Climbing the Charts & Dropping Hot New Configs
Following the successful launch of its chart-topping portrait upright cabinet Spectra UR43™ in 2022, AGS introduces its second cabinet in the Spectra™ line and a new premium configuration:
Spectra™ UR49C features a towering 49-inch curved monitor and enlarged button deck along with an expanded library of high-performing games.
Spectra™ UR43 Premium includes a regal billboard-style digital display and thematic merchandising available in various inline and pod configurations.
"This year's G2E represents a significant step towards our unprecedented slot strategy transformation. Our products and strategy are fully aligned towards growing our market position to become a leading slot supplier to the gaming industry," said Mark DeDeaux, Senior Vice President and General Manager, Slots. "We have elevated our people, processes, and products and we are in full launch mode."
Remixing Award-Winning Brands – And Making Them Even Better
AGS will showcase its deepest and most diverse pipeline of new games to date, featuring extensions of several of its most successful game themes, iterations of market-resonant game mechanics and cutting-edge innovation.
Triple Coin Treasures Gold™, a four-pot twist on the original Triple Coin Treasures™ game family, which was recognized as a "Best Slot Product" in the 2024 GGB Gaming & Technology Awards.
The return of Cornsquealius, everyone's favorite vivacious pig, in Rakin' Bacon Odyssey® and Rakin' Bacon Sahara®.
Longtime player-favorite Fu Nan Fu Nu Prosperity™ and Fu Nan Fu Nu Longevity™, now with premium merchandising.
Staying On Beat with The Industry's Best Table Progressives
Innovating on the high-performing, award-winning progressive system Bonus Spin™ Xtreme, AGS' tables division will release new features to further enhance the experience for players.
 Bonus Spin™ Xtreme Power Up! includes a wheel triggered by individual hands for non-community table games.
The high-hand jackpot feature offers players a progressive jackpot for making top individual hands.
"Our Bonus Spin Xtreme showcase at G2E is another solid example of how we don't stop innovating on a great idea, and the new features we are showing are great examples of how we continue to push the envelope on what's possible with our progressive platforms," said John Hemberger, Senior Vice President and General Manager, Table Products. "In line with being relentless with product enhancements and refinements, we continue to fine-tune our Pax S card shuffler and grow our support network across the country."
In addition, AGS' single-deck shuffler, Pax S® is back with its most feature-rich software ever, including added game configurations and enhanced efficiency and serviceability.
Interactive Games Topping the Charts & Reaching New Heights
AGSi, AGS' interactive division, achieved new levels in 2023 with the entrance into British Columbia Lottery Corporation, Italy, Romania, and West Virginia jurisdictions and most recently ranking #1 for Top Indexing New Online Slots per the September '23 Eilers-Fantini Online Game Performance Report.
AGSi debuted its first persistence titles from the Ultimate Choice Jackpots® game family this year and successfully entered the online stepper product category with the release of Mega Diamond™–accompanied by a modernized UI layout. Underscored by a marquee year, AGSi plans to release its first online table game among the 50 games it plans to introduce to the market in 2024 and become the first supplier to offer table progressives online.
BMM Innovation Group BIG" Welcomes Brian Wedderspoon as Chief Revenue Officer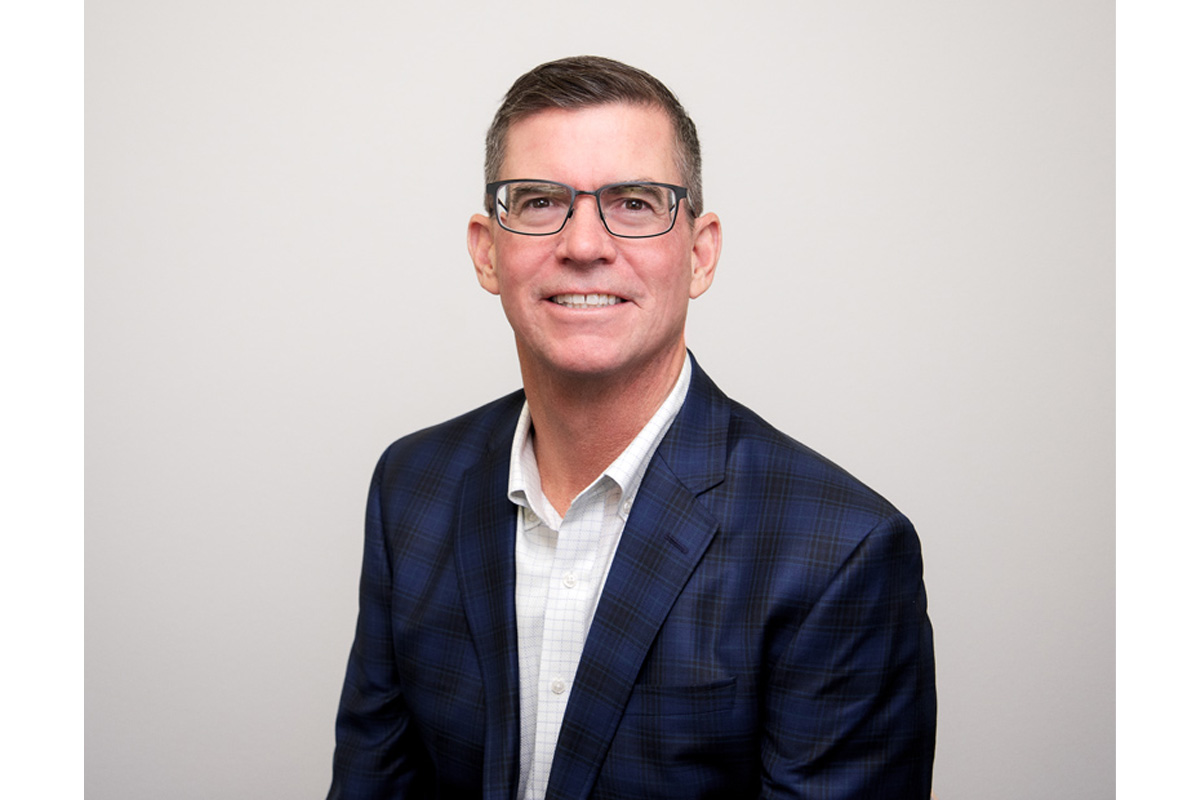 BMM Innovation Group "BIG," a technology conglomerate providing world class services and cutting-edge solutions to the global gaming industry, is pleased to announce Brian Wedderspoon as Chief Revenue Officer and welcome him to its executive leadership group. Wedderspoon will report directly to the Group CEO.
Martin Storm, CEO of BMM Innovation Group, commented, "Brian is an outstanding leader and business executive. In the area of integrated and automated payment technologies at MEI and then CPI, Brian grew market share from a standing start to a dominant position around the world. Brian has excelled in customer acquisition, growing share with the highest levels of customer satisfaction. At BIG he will lead and globalize our growing customer engagement to continue our rapid growth in digital and land-based gaming testing and certification, as well as our growing portfolio of technology solutions. His values and vision align perfectly with where our business is today and where it is going. I am so pleased that he chose BIG as his new home."
Brian Wedderspoon continued, "I am very excited to join BIG in this role, working alongside Martin and the exceptional global team as we take the company into the next phase of growth. I have worked with many of the BIG team members over my past 17 years in gaming, and I am honored to be part of this outstanding group. The best is yet to come. Built upon a clear vision and company values, our well-defined strategic plan of globalization and expansion creates an exciting jump-off point for our future."
Wedderspoon has held key positions at MEI and CPI over the last 17 years. While at CPI, he first led the global initiative of product integration with all OEMs across all jurisdictions, resulting in the CPI portfolio being approved for use in all regulated gaming markets. Wedderspoon then led the Americas sales team in the expansion into new markets and customers within the region, growing long-term share at a double digit CAGR rate. His success led to his promotion to Vice President of Global Gaming, a role he held for the last 5 years. In this role, Wedderspoon continued the growth of CPI as the majority share leader in payment systems, expanded value-added cash management solutions, and introduced industry leading cashless payment systems.
Wedderspoon will attend G2E 2023 in Las Vegas to meet with key clients throughout the industry. Visit him at BIG, the BMM Testlabs, BIG Cyber, and RG24seven booth.