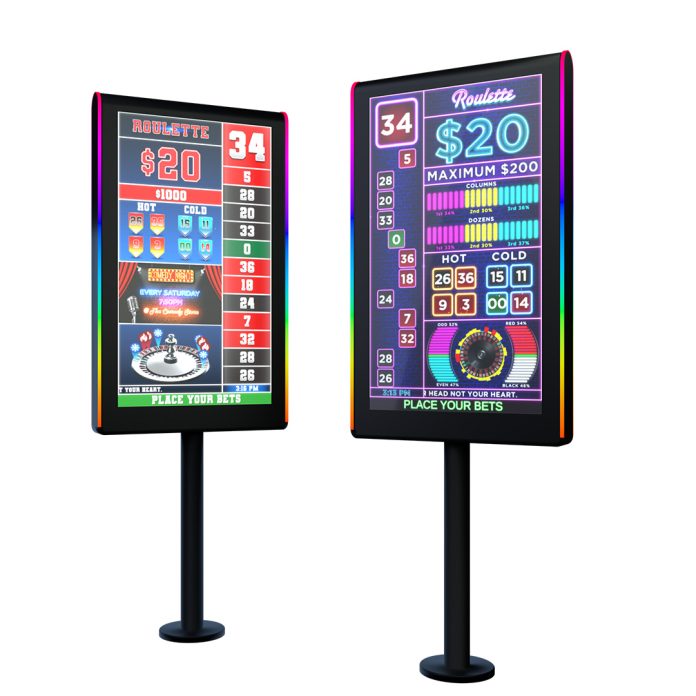 As a global leader in Winning Number Display technology, TCSJOHNHUXLEY's extensive range of displays deliver unrivalled quality and performance along with striking graphic capabilities.
Launching at G2E 2022, TCSJOHNHUXLEY will be showcasing the latest additions to the display portfolio, featuring a new graphic controller that provides unlimited flexibility and control to operators. The new controller now allows operators to configure and manage their displays easily by selecting from predesigned templates or custom configurations without the need of technical support.
Utilising an industry recognised powerful graphics engine, TCSJOHNHUXLEY's winning number displays are now able to offer themed skins with animations that will draw a crowd and stand out on the gaming floor. Now it is possible to show content when and where the casino wants, such as the number of historical stats to be displayed, pay table odds, chip values and chip colours, various stats with the ability to change colourways, as well as including static or live media.
The two new display skins debuting at the show are the 'Miami', a vibrant, neon themed graphic and the 'Sports' featuring retro American College styling, demonstrating the vibrant impact these designs will provide and a taste of the future skins library that will soon be available.
Tristan Sjöberg, Executive Chairman TCSJOHNHUXLEY, commented: "Our winning number displays have always provided great content and delivered results at a lightning speed, however changes to content have required technical assistance. The new graphic controller is a game-changer for operators as they will have unrivaled flexibility to manage and change their content, using our quick and easy application tool, with the added benefit of choosing from a library of vibrant and high-impact graphics, that visitors to the casino cannot miss!"