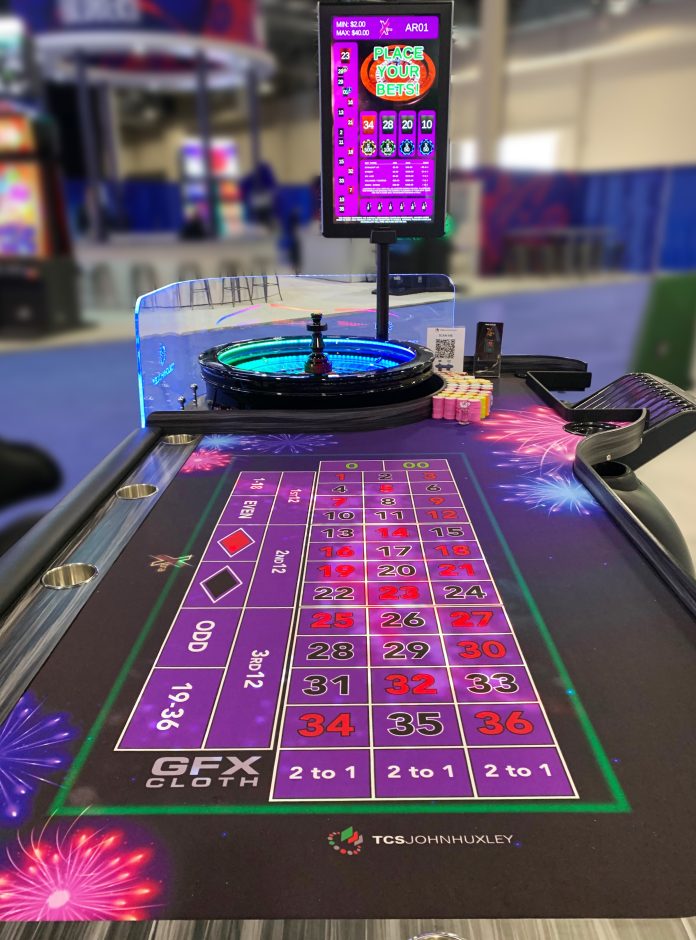 Earlier this year, leading global innovator of live gaming solutions TCSJOHNHUXLEY, launched Roulette Xtra, the exciting live table game which combines the traditional game of Roulette with a thrilling random multiplier bet.
New for G2E, the game has been further developed to now incorporate Blaze patented LED surface technology, that displays unique 'attract sequences' and custom-themed animations, while also highlighting the Roulette Xtra multiplier bets and winning numbers.
Tristan Sjöberg, Executive Chairman TCSJOHNHUXLEY comments, "Roulette Xtra is a fun and easy to understand side bet that provides more thrills to the game of roulette. By adding Blaze Roulette with its eye-catching animations featuring exciting attract and win modes for the Roulette Xtra multiplier bets, we are able to bring further fun and thrills to this super-charged game."
Quick and easy to understand, Roulette Xtra follows the same rules as traditional Roulette but selects 4 random numbers with a maximum payout of 500 to 1 available. Players will place their bets as normal and once the ball is spun and "No More Bets" is called, the game randomly selects four Roulette Xtra numbers along with random multiplier amounts ranging between 50 to 1 and 500 to 1 which are lit up to much fanfare on the Blaze table layout and winning number display. The winning Roulette Xtra number and combinations are determined by the result of where the ball lands on the Roulette wheel. Roulette Xtra does not interfere with the traditional game or slow it down, and the game allows operators to vary payouts with options for Single, Double and Triple Zero wheels.
Roulette Xtra with Blaze is an exciting and thrilling addition to Roulette that will drive players to tables by providing the chance to win big payouts without having to wager additional bets. Xtra fun, xtra excitement, xtra pay outs!