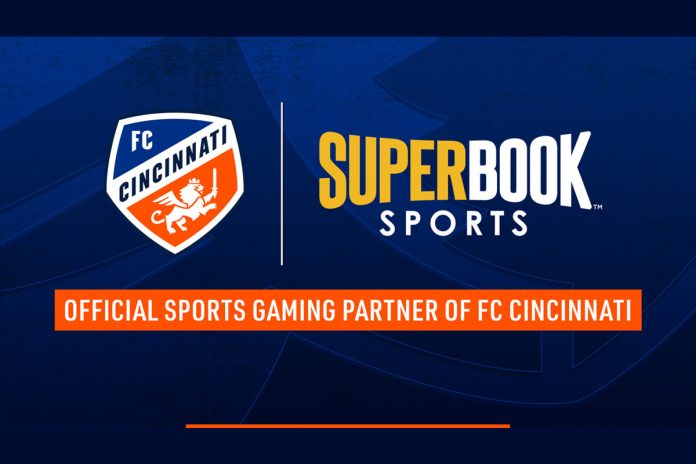 FC Cincinnati has entered into a long-term, multi-faceted partnership with SuperBook Sports to bring exciting, interactive real-time sports betting to FC Cincinnati fans. The partnership names SuperBook Sports as the exclusive official sports betting partner of the Orange and Blue.
SuperBook's flagship location at Westgate Resorts hotel and casino in Las Vegas is the world's largest sportsbook and brings a high level of sports betting excellence with over 120 years of collective odds-making experience.
Pending licensing and regulatory approvals by the state, SuperBook Sports will launch a mobile app allowing fans in Ohio to place wagers on a wide variety of sporting events, including MLS and FC Cincinnati matches. The real-time app includes SuperBook's reliable, famous wagering menu, unique odds boosts and a focus on local and regional teams.
The partnership will also include an in-person sportsbook experience operated by SuperBook Sports at a retail venue in Cincinnati where fans can enjoy an exciting collective sports betting experience while watching on-field/on-court action from across all sports leagues on multiple state-of-the-art TVs.
"We are extremely excited to partner with an industry leader like SuperBook. Their focus on the sports fan, in addition to their ability to provide a seamless experience, fully aligns with all we do at FC Cincinnati," Jeff Berding, Co-CEO of FC Cincinnati, said.
"SuperBook could not be more pleased to partner with an outstanding team like FC Cincinnati. Their focus on the fan experience, the pride in their brand and their commitment to the sport is exactly in line with the SuperBook brand. We look forward to continuing to grow this partnership and provide the best sports wagering experience to fans," Kristin Mackey, Vice President of Marketing at SuperBook Sports, said.