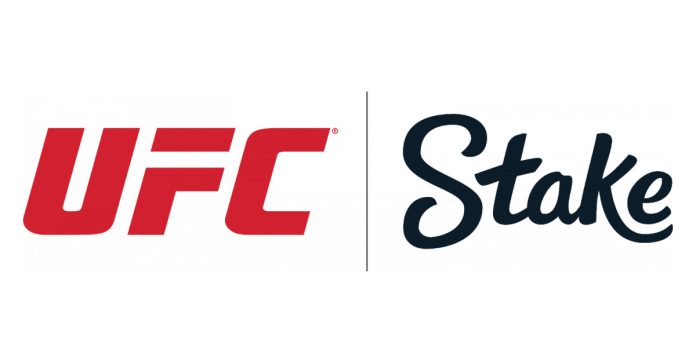 Stake.com Becomes UFC's First Betting Partner in Brazil
UFC®, the world's premier mixed martial arts organization, today announced an expansion of its partnership with Stake.com, the world's largest cryptocurrency casino and sportsbook.
The new agreement builds upon the partnership UFC and Stake.com announced in 2021, in which Stake.com became UFC's first-ever Official Betting Partner in Latin America (excluding Brazil) and Asia.  Stake.com will continue as UFC's Official Betting Partner in those territories and now the partnership will be expanded to include Brazil, the first time UFC has had a betting partner in the country.
UFC has become one of the most recognized brands throughout Latin America, and in particular, Brazil.  The roots of mixed martial arts can be traced back to Brazil, and UFC enjoys enormous popularity in the country, with an estimated 34 million fans.
SPONSORSHIP PARTNERSHIP & BRANDED INTEGRATIONS
As an Official Betting Partner of UFC, Stake.com will receive a wide-range of integrations into key UFC assets.  Stake.com will have a branded presence inside UFC's world-famous Octagon® during select Pay-Per-View and Fight Night events each year, and Stake.com will be the presenting sponsor of UFC's regularly scheduled Pay-Per-View event hosted in Brazil.  UFC and Stake.com will also collaborate on a variety of custom and original content that will be distributed across UFC-owned social media channels and digital platforms, and the two brands will work together to create exclusive promotions and VIP experiences for fans.
UFC ATHLETE BRAND AMBASSADOR PROGRAM
The agreement also provides for an annual Brand Ambassador fund that will offer significant paid marketing opportunities to participating UFC athletes.
"Stake.com has been a great partner this past year, and we're thrilled to continue the relationship," said UFC Vice President of Global Partnerships Nick Smith.  "With sports betting becoming more widely accessible, we have added Brazil, a very important emerging gaming market, to a far-reaching collaboration that already included key regions within Latin America and Asia.  We look forward to working with Stake.com to continue to offer a unique way for fans to experience the action and excitement of UFC through Stake.com's innovative and emerging gaming platform."
"We're more than pleased to renew our partnership with UFC for 2022, after a huge 2021," said Mladen Vuckovic, CEO, Stake.com.  "Our relationship with UFC is only getting stronger, and we cannot wait to welcome UFC fans from all around the world onto our platform.  Our current player base relished the partnership, making the most of VIP experiences and exclusive content to bring them an experience with one of the biggest sporting organisations in the world. This is something they cannot find anywhere else."
UFC and Stake.com will present new and exclusive digital and social content this week leading to the highly anticipated UFC® 271: ADESANYA vs. WHITTAKER 2 on Saturday, Feb. 12 at Toyota Center in Houston, Texas.  UFC middleweight champion Israel Adesanya, Stake.com's primary UFC athlete ambassador, will defend his title against the man he beat in 2019 to capture the championship, No. 1 contender Robert Whittaker.
Established in 2017, Stake.com is one of the fastest growing betting brands in global history, offering an unrivaled online crypto gaming experience for its users.