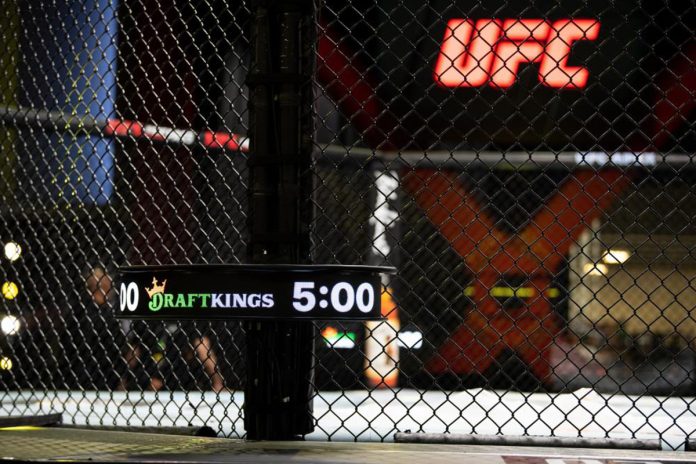 UFC and DraftKings announced plans to launch a new iteration of DraftKings' "Reignmakers" gamified digital collectibles franchise focused on UFC. Reignmakers UFC will allow fans to build collections of their favorite UFC fighters and utilize them in games to compete for prizes. The first season of Reignmakers UFC NFT-based games is expected to go live later this year.
Ahead of the launch of the game, fans can soon begin collecting the initial NFTs of fighters via auctions and drops in DraftKings' "Heatwave Series," which will be based around this summer's UFC events schedule, beginning with UFC 276: ADESANYA vs. CANNONIER on July 2.
Collectors will receive rewards both leading into and following the game rollout based on the utility of the NFT which could include entries into special daily fantasy contests for cash, custom merchandise, and more. Under the new agreement with UFC, DraftKings Marketplace will have access to fighter IP from over 500 different athletes on the active UFC roster from which to choose to create the Reignmakers UFC collection.
"UFC has been a tremendous collaborator over the years, and we are delighted for the organization to represent our latest installment within DraftKings' burgeoning Reignmakers gamified digital collectibles franchise. Fight fans are already among the most engaged audiences, and we see these immersive technologies as bolstering the unique sports entertainment ecosystem we provide for consumers while also rewarding their undeniable passion," said Beth Beiriger, SVP of Product Operations for DraftKings Marketplace.
Already UFC's first-ever "Official Sportsbook and Daily Fantasy Partner" in the United States and Canada, DraftKings now extends the collaboration between these leading organizations into blockchain and intends to merge collectability with event-based benefits.
The exclusive Reignmakers UFC game is in development now, and at launch, it will include familiar features and functionality related to missions, achievements, level-ups, leaderboards, and other underlying game mechanics. In the meantime, the inaugural collection of fighter NFTs will provide collectors with timely digital and physical rewards tied to corresponding UFC events. All fighter collections will eventually become playable, in-game items, while maintaining this rewards system for holders.
"We're excited to expand our relationship with DraftKings to incorporate UFC into their highly anticipated Reignmakers gamified NFT collection. Reignmakers UFC will be a unique, innovative opportunity to create fan engagement that combines DraftKings' expertise in digital sports entertainment with pioneering technology that features hundreds of UFC athletes, including some of the biggest names in the sport," Tracey Bleczinski, UFC Senior Vice President of Global Consumer Products, said.