SCCG Management Announces Strategic Partnership with MIRACL For Single-Step, Passwordless Multi-Factor Authentication and Digital Signing Services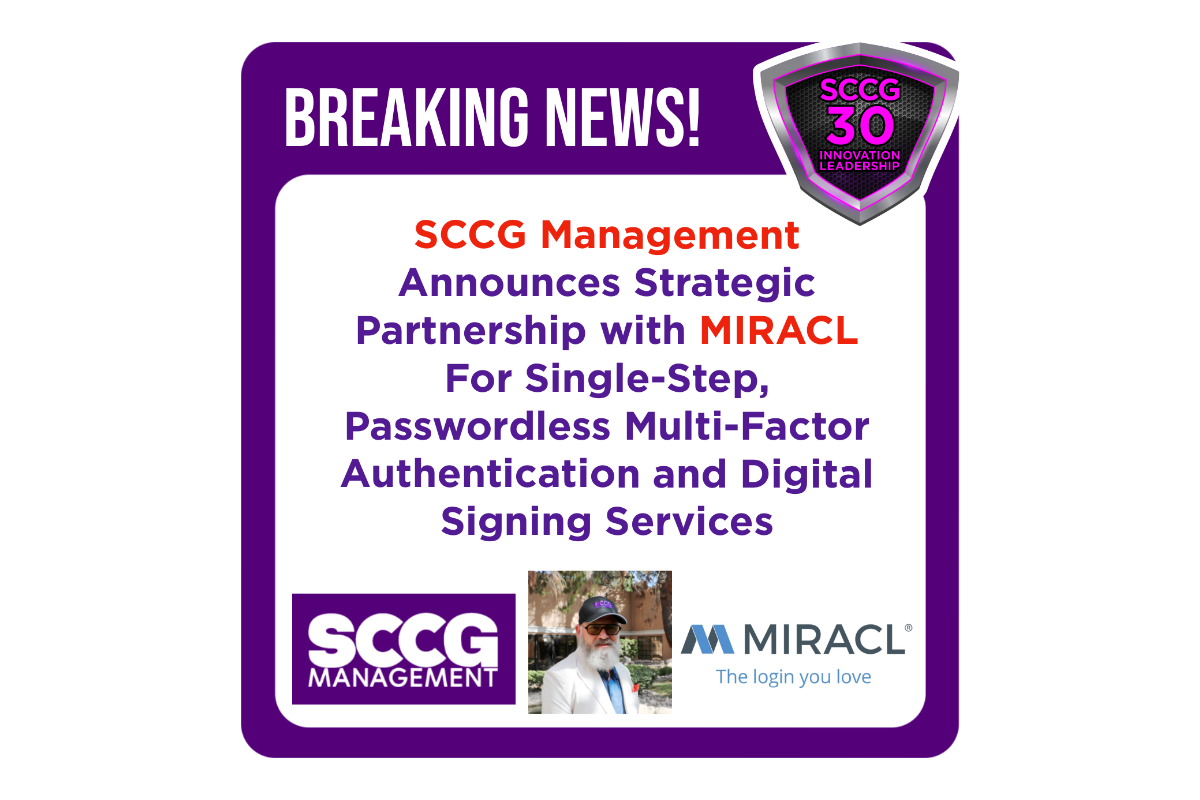 Stephen Crystal, Founder and CEO of SCCG Management announces a strategic partnership with MIRACL, providing business development and strategic advisory services for the single-step, passwordless Multi-factor Authentication (MFA) and Digital Signing company. 
Stephen Crystal said of the partnership "Partnering with MIRACL allows us to provide a seamless, user-friendly solution to the gaming industry, revolutionizing the way they approach multi-factor authentication and digital signing. Our clients and extensive network of operators, players and regulators can now secure their assets with a single-step MFA process, adding an extra layer of protection to their online gaming experience."
Robert Griffin, CEO of MIRACL said, "Our partnership with SCCG will help MIRACL transform the login experience for gamers both in the US and worldwide.  To date, players and operators have all been failed by passwords and SMS messages resulting in regulators making multi-factor authentication a condition for operators to continue being licensed. We're delighted to be teaming up with SCCG, the preeminent advisory firm in the global gaming industry. They bring an unrivalled level of experience and expertise that will amplify our message and reach as we bring the global gaming market a login users love."
MIRACL eliminates the need for outdated security practices such as passwords, SMS Texts, push notifications and key-cards. The use of true two-factor authentication coupled with the latest Zero Knowledge Proof (ZKP) technology means no personal data is stored or transmitted and there are no "honey-pots" of data exposed to attack, ensuring MIRACL Trust is completely GDPR friendly too. With a simple two second login via PIN or biometric, MIRACL customers see login success rates as high as 99.996%.
MIRACL Trust® allows every user to cryptographically sign any digital asset such as a transaction payment, KYC document transfer, user uploaded content, user action or binding agreement.
In the gambling industry, security is of utmost importance. MIRACL's user-friendly MFA solution helps to ensure that the online gaming experience is secure and protected against unauthorized access. This is important for both players and operators, as it helps to prevent fraud and to maintain the integrity of the games.
Sports Betting Venture Circa Sports Launches in Illinois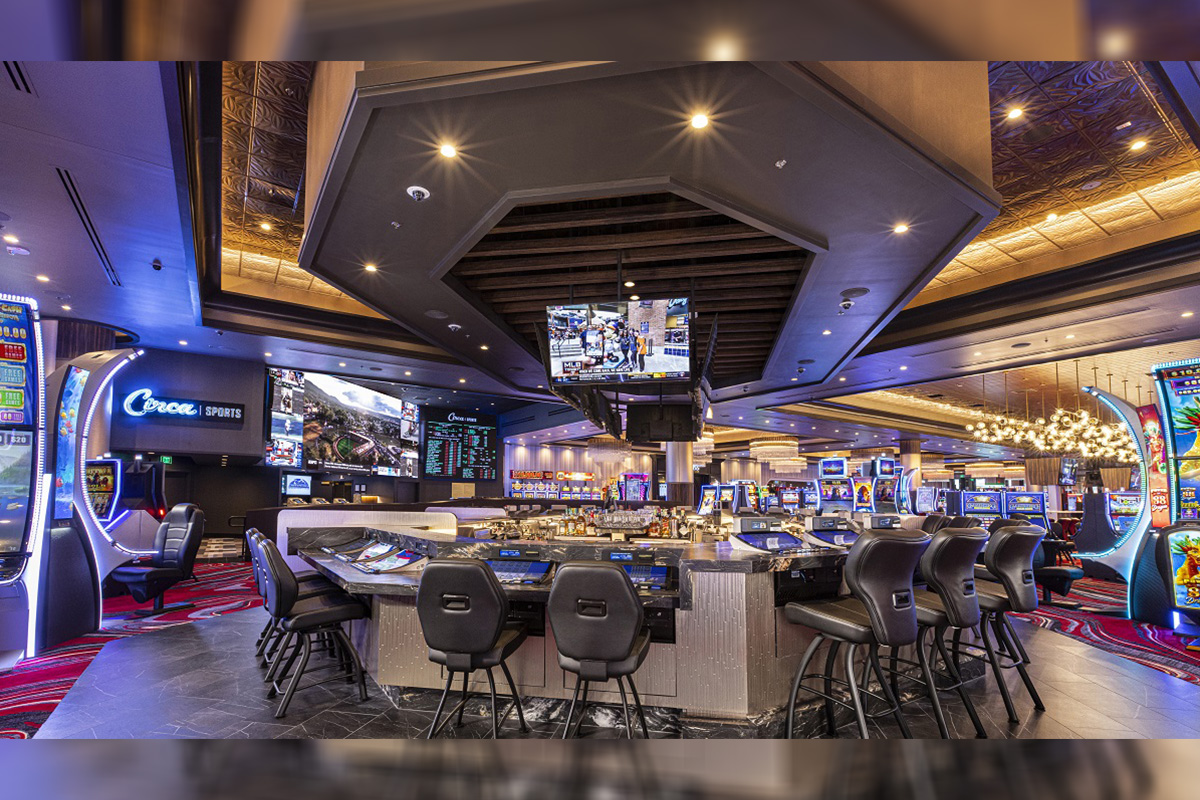 Sports betting venture Circa Sports has officially launched in the Illinois sports betting market. Marking the fourth and largest state for the brand from Las Vegas casino developer Derek Stevens, Circa Sports Illinois is now available via mobile betting app and has debuted a brick-and-mortar sportsbook within the new American Place in Waukegan in partnership with Full House Resorts Inc.
"The debut of Circa Sports Illinois is a tremendous moment for our company, and we are thrilled to have worked with this great state and Full House Resorts to bring the expansion to life. There's nothing like a Midwest sports fan and we know our product matches up with what they are looking for in a betting experience," Stevens said.
On October 4 at 2:30 pm, Chicago sports legend Brian Urlacher will join the Circa Sports team to celebrate the new book at American Place. This will include meet-and-greets with Urlacher along with him placing a sports bet.
Using the mobile Circa Sports app, bettors are now able to register, fund and wager on sports from anywhere in the state. Offering a new low-hold model for Illinois, Circa Sports offers some of the best odds in the country and is helmed by some of the industry's top professionals. Limits are the same for every player, whether the bettor is a novice or a sharp.
The brand's sports book in American Place features a dedicated wagering area with betting kiosks, physical ticket windows and digital boards with real-time odds. Bettors can catch all the sports action on 36 televisions, ranging from 60″ to 80″ screens. The book is located in the temporary casino Full House Resorts is operating while constructing the permanent American Place casino. Circa Sports also will launch a best-in-class retail sportsbook in the permanent American Place matching the quality and scale of the casino development.
Alex Stolyar, Chief Development Officer of Full House Resorts, said: "We are thrilled for Circa Sports to launch their best-in-class sportsbook in Illinois in partnership with our American Place Casino. The premium sportsbook gives new and existing casino customers throughout Chicagoland one more reason to visit and frequent American Place."
Internet Sports International Partners with Royal Beach Casino at St. Kitts Marriott Resort to Power Sportsbook
Internet Sports International (ISI), a global provider of turnkey race and sportsbook software solutions, announced its partnership with The Royal Beach Casino at St. Kitts Marriott Resort, located in the West Indies Frigate Bay nestled between the Caribbean Sea and the Atlantic Ocean. Through their partnership, ISI powers The Royal Beach Casino's recently relaunched sportsbook and retail sports wagering options located at their sports bar.
Retail sports betting is now available via live tellers and kiosks in the newly renovated casino and Royal Beach's popular sports bar, all powered by ISI.
"ISI has been a terrific partner to The Royal Beach Casino team, allowing us to seamlessly transition sportsbooks without disruption. ISI's customer service, retail sports wagering expertise, commitment to user experience, and ability to easily adjust solutions to our needs have contributed to our casino goals," Losana Laws, VP Of Operations for The Royal Beach Casino, said.
St. Kitts Marriott Resort & The Royal Beach Casino offers guests an unparalleled island vacation comfort, with seven extraordinary restaurants, three pools, and for entertainment and relaxation, a 35,000 square foot Royal Beach Casino and a championship golf course at the Royal St. Kitts Golf Club. The property continues to raise the bar by completely transforming its Emerald Mist Spa and recently revamped sports wagering options.
"ISI prides itself on being a turnkey provider and a fully invested partner that powers sportsbooks and retail sports wagering options to set casinos and teams up for success. We are thrilled to work alongside St. Kitts Marriott Resort & The Royal Beach Casino team to bring what we believe is the perfect solution for relaunching sports wagering in the wake of this NFL season," Bill Stearns, CEO of ISI, said.
Gambling.com Group Ready for Launch of Online Sports Betting in Kentucky with BetKentucky.com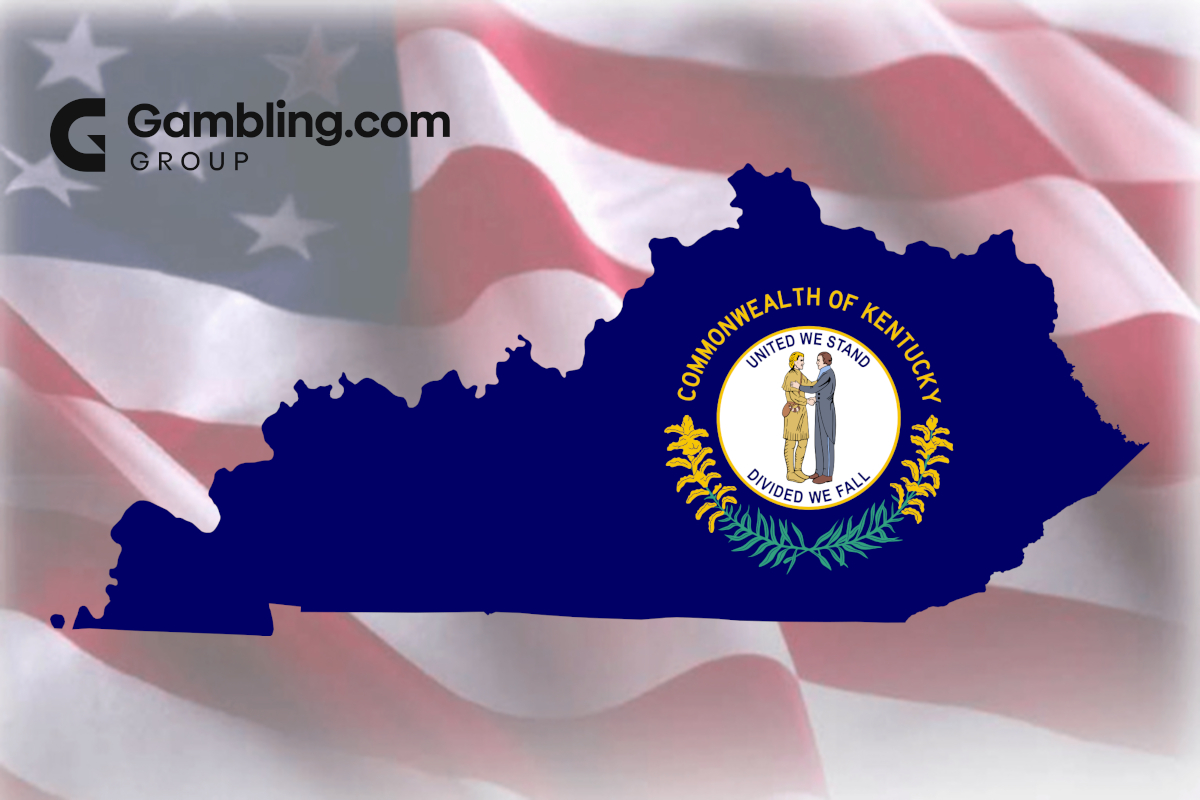 Gambling.com Group Limited (Nasdaq: GAMB), a leading provider of player acquisition services for the regulated global online gambling industry, today announced that it is ready to provide marketing services to licensed online sports betting operators in the state of Kentucky as legal online sports betting goes live on Thursday, September 28, 2023.
The group launched BetKentucky .com in April of 2022 ahead of the legal online sports betting market in Kentucky going live to help sports bettors find trusted, comprehensive and up-to-date information on sports betting and legislative updates in 'The Bluegrass State'. With seven approved online sportsbook operators available on day one and one more expected at a later date, access to comparison websites like BetKentucky .com enables consumers to read expert reviews of all legal sportsbooks in the state to help them choose their best option.
Through its portfolio of informational websites, Gambling.com Group helps operators acquire players, reducing their reliance on more intrusive forms of advertising. In addition to BetKentucky .com, the group is ready to help licensed online gambling operators in Kentucky with its national and international websites including Gambling .com, Bookies .com, RotoWire .com and USAToday .com through its media partnership with Gannett Co. Inc as well as with the Lexington Herald-Leader (at Kentucky .com) via its media partnership with The McClatchy Company and the Louisville Courier Journal (at Courier-Journal .com) via its media partnership with Gannett.
Kentucky with a population of over three million adults, launched retail sports betting in the state on September 7 with Governor Andy Beshear announcing bricks-and-mortar sportsbooks posted a handle of over $4.5 million after the first two weekends. BetKentucky .com in late-July commissioned a survey reporting that 42% of Kentucky adults say they are 'very likely' or 'likely' to bet on sports once it is legalized. Kentucky has a strong college sporting history with college teams at the University of Kentucky, University of Louisville and others receiving undivided attention from fans across the state.
"Kentucky has been one of the quickest states to launch sports betting after legislative approval and 'The Bluegrass State' is taking the right approach by keeping the barriers to entry low and allowing a variety of operators to enter the market," the Chief Executive Officer for Gambling.com Group Limited, Charles Gillespie, said. "We believe that this will foster competition and ultimately benefit consumers as the operators with the best products rise to the top. Kentucky has a rich sporting tradition and Gambling.com Group Limited is excited to help guide and educate sports bettors in the state to get the most out of their online sports betting experience."
"Kentucky allowing sportsbooks to take legal sports bets just as the NFL season is kicking off and with the MLB post-season on the horizon is a huge win for sports bettors in the state," the Vice-President for Gambling.com Group Limited, Caroline Smart, said. "The competitive marketplace in Kentucky will guarantee plenty of choices and opportunities for customers, who can count on our dedicated websites that feature trusted, comprehensive and up-to-date information on sports betting as well as reviews of the legal sportsbooks to provide them all of the resources needed to navigate these exciting times."