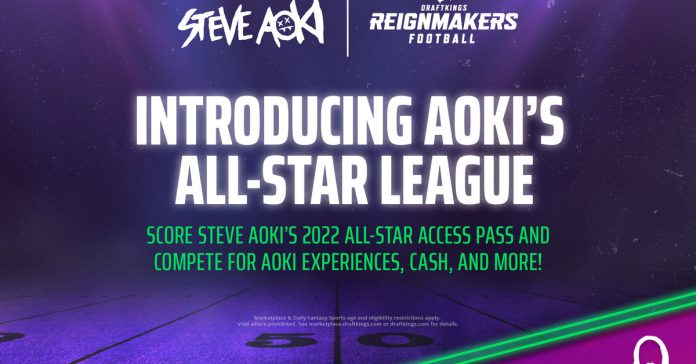 DraftKings Inc. and Steve Aoki announced that the two-time Grammy-nominated DJ and producer has agreed to become an official brand ambassador of DraftKings Marketplace. Aoki will support DraftKings' Web3 efforts, with an emphasis on the Reignmakers franchise, an NFT-based fantasy sports series where players will be able to build a collection of NFT player cards with which they can draft a lineup for use in fantasy sports-style games. Aoki will collaborate on and promote digital collectibles that are exclusive to DraftKings Marketplace. These digital collectibles are intended to represent Aoki's interests and focus on the intersection of sports, entertainment and culture. The first collection, the Aoki 2022 All-Star Access Pass, is slated to drop on Wednesday, September 14, and customers who purchase the collection will receive special access to private Reignmakers Football contests during the 2022 professional football season.
"Steve Aoki is globally recognized for his contributions to the music industry and more recently, for his involvement with digital collectibles. I am excited to welcome him to the DraftKings family," said Matt Kalish, DraftKings co-founder and president, DraftKings North America. "Having him on board will provide us with a refreshing perspective for future, community-driven projects, and I look forward to bringing new experiences to our customers and to Steve's fans."
As part of the strategic relationship, DraftKings and Aoki will collaborate to develop NFT collections that feature DraftKings-specific utility. Additionally, DraftKings Marketplace customers who purchase Aoki's collections will be eligible for special prizes, including VIP events hosted by DraftKings and tickets to Aoki's future shows.
"I am excited to be working with DraftKings to build out the next generation of fantasy sports," said Aoki. "Through Reignmakers Football, DraftKings customers can have ownership of their rosters in an innovative way that Web3 can provide."
The Aoki 2022 All-Star Access Pass will give collectors access to private Reignmakers Football contests, where they can compete head-to-head with other community members for rare prizes. Contests are expected to begin starting in week two of the professional football season and run throughout the 2022 season. Winners will be eligible for prizes that include exclusive in-person experiences with Steve Aoki, rewards and cash payouts. The final week's contest is expected to include an Aoki Poker Night experience and additional cash payouts.