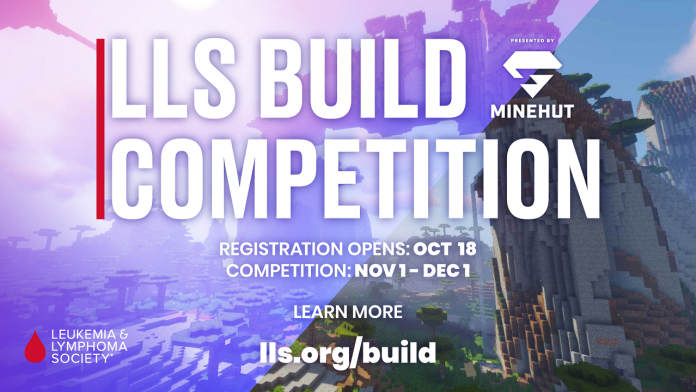 Super League Gaming Teams Up With The Leukemia & Lymphoma Society for a Build Competition Hosted on Minehut
Super League Gaming, a global leader in connecting consumer brands with video gamers of all ages through creator communities, proprietary platforms, and esports properties, and The Leukemia & Lymphoma Society (LLS) announced today that they are teaming up for an interactive build competition hosted by Super League's Minecraft community, Minehut.
The inspiring virtual event will take place throughout the month of November, bringing together creative Minecraft players with LLS Honored Heroes – real-life, pediatric cancer survivors and patients. Participants will enter into an amusement park-themed lobby in Minehut, tasked to build what their dream world would look like once they or their loved one are declared cancer-free. As they join the competition, they'll learn more about LLS Honored Heroes and their inspiring journeys.
"It is an honor to partner with The Leukemia & Lymphoma Society to spread awareness and raise funds for a cause that impacts nearly 55,000 children and adolescents under the age of 20 and their families every year," says Matt Edelman, Super League Chief Commercial Officer. "It is never too early to learn that your actions can make a difference in the lives of people who need an incomparable amount of support. Gamers who participate in this competition will be helping to revolutionize blood cancer cures and care."
"Collaborating with Super League Gaming provides LLS a game-changing moment to reach a new generation of donors," said Coker Powell, SVP, Chief Development Officer for The Leukemia & Lymphoma Society. "The partnership provides an opportunity to remind the public about the urgent need to support research to fight blood cancers — a disease that is diagnosed every three minutes in the U.S. and has no current means of prevention. LLS is working tirelessly to find cures and provide more support for blood cancer patients and families than any organization in the world."
The LLS Build Competition comes at a time when awareness and funds for LLS are uncommonly low as a result of the COVID-19 pandemic. Children battling blood cancer are experiencing extreme isolation as most patients, if not all, are seriously immunocompromised. This event is designed to give those fighting blood cancers an opportunity to express their creativity and play in an environment removed from their diseases.
Following the four-week competition, the creators of the best builds will be interviewed by top Minecraft influencers and featured in exclusive video content on their YouTube channels. During the building phase, players will be encouraged to promote the event and raise funds to advance The Leukemia & Lymphoma Society's mission to cure leukemia, lymphoma, Hodgkin's disease and myeloma, and improve the quality of life for current patients and their families. If players raise $250, they will receive a one-of-a-kind Minecraft LLS Build Competition Gamer Kit with special items.
The free competition concludes on December 1 but fundraising will remain open until the end of the year. Families, friends and other Minecraft players are invited to explore the virtual amusement parks and help foster strength and hope for a world beyond cancer. The Build Competition server can be accessed using the Minecraft Java Edition for PC and Mac or Minecraft Bedrock Edition for PC, Mac, iOS and Android. A Minecraft account is required.
Go to lls.org/build for more.