Roundtable: Spending Smart Not Big in the US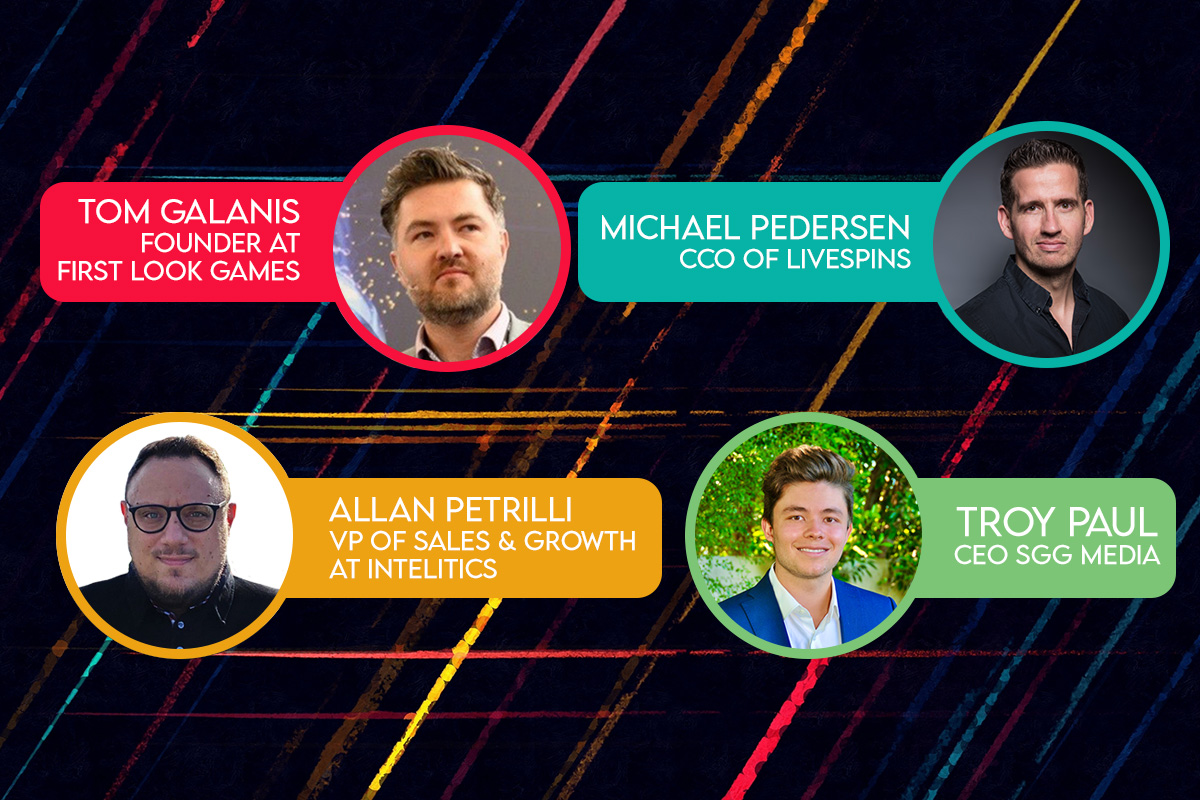 Participants
Michael Pedersen, CCO of Livespins
Tom Galanis, Founder at First Look Games
Allan Petrilli, VP of Sales & Growth at Intelitics
Troy Paul, Co-Founder and CEO at SGG
Summary
This roundtable will discuss the marketing tactics being deployed by operators in the US and in particular, how those with smaller budgets can still drive awareness and build market share. While above-the-line campaigns have their place, affiliates and paid media are just as effective and can drive acquisition at scale but for a more sensible return on investment. It will dig into the upsides that affiliates and paid media offer and what operators need to do to maximise the opportunities they provide. It will also touch on other channels such as social media and streaming and asks if operators are really doing enough when it comes to retention.
Operators have dropped serious money on marketing and acquisition campaigns to date, but many are now questioning the effectiveness of these and the ROI they are generating. Why do you think they took this approach in the first place?
Michael Pedersen, CCO of Livespins
Operators have spent big to leverage the powerful first mover advantage on the table in states that have legalised online sports betting and casino for the first time. They have also been locked in a fierce battle with their rivals over market share, a battle they have been keen to win. Many will have researched the market beforehand and seen analyst reports that it will be worth billions and so have looked to buy their way to the largest slice of the pie. I think this has been the right approach to take for some as there is a huge advantage to be gained by being among the first brands to go live in a state. This allows the operator to capture the significant early interest in legal sports betting and casino when the market first opens. You just have to look at the numbers coming out of Ohio to see the level of activity that occurs in the first few days and weeks of a market opening.
Of course, this is an expensive game to play and requires very deep pockets indeed. The issue now is that operators have been spending big for quite some time and investors are starting to question when this open chequebook approach will pay off. Many understand that brand building takes time, but they do need to see a path to profitability. This path is looking increasingly bumpy in the context of recent changes to the macro environment (interest rates on the rise, cost of living crisis, etc) and it seems investors are running out of patience. This has seen many operators slash marketing spend as part of wider efforts to hit the point of break-even by the end of the year – a target that I'm sure some will fail to hit.
Tom Galanis, Founder at First Look Games
The trend for massive spend is undoubtedly a result of the historic marketing blitz undertaken by FanDuel and DraftKings and the hundreds of millions of dollars they invested in building their brands in the daily fantasy sports space. They've been able to tap into this brand equity as and when states have legalised online sports betting and casino, taking the lead in most markets. Other brands entering the fray have had to spend at similar levels to play catch-up and stake their claim to the lion's share in each state. I do think there's been an over-reliance on above-the-line (ATL) marketing and the use of brand ambassadors and sponsorship deals. These are incredibly expensive marketing channels that are often more effective at long-term brand building than they are at delivering acquisition at pace. It's also worth noting the "Gold Rush" mentality that a lot of operators seem to have adopted – they believed there was a limited window to achieve a critical mass of market share so have spent big in order to achieve it.
Allan Petrilli, VP of Sales & Growth at Intelitics
While many believe operators have embarked on reckless spending, to me there is some method to the madness. Top-tier brands consider this spend under brand-building and with new markets opening up so quickly, they felt they were entering into a fierce battle with their rivals to capture the largest share of wallet in each state. This coincided with public and private investment being relatively cheap, meaning operators didn't have to be quite so mindful of the return they were achieving. There was also an assumption that iGaming/online casino regulation would be quickly rolled out across additional states, and this in turn would help to drive revenues. Of course, the cost of investment and borrowing money has skyrocketed and online casino regulation has not come about at the pace or the scale expected. This has caught operators off-guard, and many are now slashing marketing budgets in order to achieve profitability.
Troy Paul, Co-Founder and CEO at SGG
The passing of PASPA (The Professional and Amateur Sports Protection Act) really heralded the start of "the great sports betting race" – and back then, the general consensus was that the first two or three operators would easily "win" and dominate sports betting for all time. Initially, FanDuel, DraftKings and BetMGM outspent the competition and took the first heat, but the race is far from over. Now we're seeing challengers such as Fanatics and BETR competing in a new heat where the emphasis has shifted from how much a sportsbook spends to how effective their spend proves to be.
Is there an opportunity for operators to spend smart and still drive brand awareness and claim a significant share of the market in each state they target?
Michael Pedersen, CCO of Livespins
Operators are starting to be more conservative. In New York, the likes of WynnBet have put the brakes on entering the market over concerns about the high tax rate impacting its ability to be profitable in the state. Not all opportunities are good opportunities and operators must avoid jumping on the bandwagon just because a state is hailed as a game-changer by analysts and insiders. Aggressive ambition is good, but operators must not walk into markets blind.
In the states that operators do identify as being viable, spending big is not the only way to claim market share and push for customer acquisition at scale. A product such as Livespins can be a major driver of both acquisition and retention. While the core Livespins experience sits within the casino lobby and provides players with an entirely new wagering experience that sees them bet behind their favourite streamers, taking retention to the next level, our soon-to-launch ambassador product has been designed to super-charge customer acquisition.
It allows operators to maximise the value of the brand ambassador/celebrity/influencer partnerships they have by deploying them within the Livespins experience. This means that players can join their favourite celebrities during their streams and play with them via our innovative bet behind system. Not only that, but they can chat with them and other players throughout the broadcast, while also dropping reactions and emojis. This changes brand ambassador marketing from passive to active and allows operators to monetise directly and instantly through the bet behinds being placed.
Tom Galanis, Founder at First Look Games
Absolutely. There's a huge opportunity for operators to generate significant new player sign-ups through performance marketing and affiliates. Operators have seemed hesitant to go all-in with affiliates to date, but as they are forced to cut marketing spend in their pursuit of profitability, I think we'll see more turn to performance marketers to support their customer acquisition efforts. That said, given the traction that the power players such as DraftKings, FanDuel and BetMGM already have in most states, affiliate marketing alone will not be enough to push another brand into this top tier – significant ATL marketing will still be required for those looking to take the crown from the early market leaders.
Allan Petrilli, VP of Sales & Growth at Intelitics
With this downward pressure on spend and the increasing importance being placed on efficiency and ROI, now is the time for operators to be more data-driven in their marketing activity. With many brands slamming the brakes on their above-the-line campaigns, there is a window of tremendous opportunity for savvy operators to explore and take advantage of. Affiliates and paid media have been under-utilised in the US market to date but absolutely can deliver the results operators desire and generate the ROI they are seeking. Of course, with most operators pulling back on top-line marketing spend and looking for alternative acquisition tactics and channels, competition across affiliates and paid media will heat up and perhaps reach the same scorching intensity that we have seen with above-the-line marketing.
To get ahead of the competition, operators should focus on localised marketing for the purpose of brand building. The top five operators will always have big budgets and will take a national approach to most of their acquisition activity, but this opens up an entire area of local marketing for smaller brands to explore and carve out their own significant niche. This is why it's important for brands to be self-aware and for this to be reflected in their marketing strategies and activity.
Troy Paul, Co-Founder and CEO at SGG
Yes, but in order to do so there are certain key propositions they must deliver. First and foremost, their product has to be top-notch and they must be able to offer a state-of-the-art gambling portal. Secondly, as the market has become more saturated, differentiation and offering a unique betting proposition has become increasingly important. BETR's micro in-game betting feature is a good example of this and one that definitely sets them apart from the competition. Lastly, if you're going to take on the big boys, you're going to need to have your own unique advertising channel. As they can't be beat on TV or Ad Word spending, you have to be smart and find other ways to reach bettors.
What does smart marketing look like?
Michael Pedersen, CCO of Livespins
A clear strategy should be the foundation of any marketing activity. It's vital for operators to know their audiences and where their attention can be found. They must also identify their own strengths and weaknesses, playing up to the former and working with specialists to close any gaps with the latter. Knowing how deep the company's pockets really are, and the degree of appetite for significant, long-term investment in marketing, is key as it sets the budgets that marketing teams have to play with. Operators and their marketing teams must then use their expertise and experience to come up with a plan that resonates with their target audience, conveys their brand values and USPs, and ultimately drives players to their books and casinos within the budgets they have been allocated. And platforms such as Livespins can deliver incredible results without operators blowing billions of dollars on TV ad campaigns.
Tom Galanis, Founder at First Look Games
It really depends on the ultimate ambition of the brand. If the aim is to scale fast and gain significant market share without any consideration being given to the bottom line, then DraftKings, FanDuel and BetMGM have done a great job. Whether this approach is sustainable remains to be seen, and you also have to factor in the levels of retention these brands are achieving to really determine the success of their tactics. Smaller operators that have looked to emulate these titans have suffered massively and this has ultimately been to the benefit of the big three. That said, it's encouraging to see some new market entrants such as PlayStar taking a different approach – they are doing things their own way with performance marketing as a key channel for customer acquisition.
The US is a very different market to the UK, but operators in the former should look to the latter to see what does and doesn't work. New York shows that operators are not learning fast enough – when margins are squeezed (in this case because of the high tax rate) agility with both product and marketing is crucial to ensuring market viability. When it comes down to it, smart marketing is a strategy that is both sustainable for the long term and balances achieving a critical mass of customers with a clear pathway to profitability.
Allan Petrilli, VP of Sales & Growth at Intelitics
An ambitious but achievable plan is the foundation of all smart marketing activity. Plans need to cover each channel, and operators need to ensure their marketing teams have access to the technology they need to track, monitor and optimise campaigns. They must also be open to and ready to pounce on any opportunities that open up. Data should be used to drive all decisions, from pulling underperforming campaigns to ramping up the spend being put behind those that are delivering solid results. Data also allows for campaigns to be tweaked in real-time, helping operators to further improve the ROI they generate. It's also important for operators not to copy the tactics being deployed by their rivals – this is a market where being brave, bold and swimming against the tide yields the greatest results.
Troy Paul, Co-Founder and CEO at SGG
There are many brands marketing effectively in the US, and pretty much all of them have their own unique set-up. Barstool, for example, is a great example of a brand that has successfully harnessed the power of social media. They have a community of loyal followers on multiple channels who relate to their brand, so they're able to market to an audience of 50 million followers every day. This is a cost-effective solution for attracting younger sports bettors, as this audience is often found dual-screening on their cell phone while watching sports – meaning it's the easiest way to reach them.
FanDuel and DraftKings, meanwhile, have both created a dedicated podcast following and keep themselves in front of this audience on a weekly basis. This is, of course, something that takes a while to establish, so it's hard for new competitors to replicate and gives them a distinct edge in the market.
Have operators yet to explore the full potential of affiliates and paid media? If not, why do you think this is the case?
Tom Galanis, Founder at First Look Games
No, they haven't. I think this is for a couple of reasons. Some operators hold the belief that brands in more established markets are over-reliant on and over-exposed through affiliates. Others seem to think the channel creates a more even playing field for smaller brands to gain market share and that affiliates do not offer the scale and speed of scale they require. There also seems to be a high level of mistrust and misunderstanding when it comes to affiliates.
Allan Petrilli, VP of Sales & Growth at Intelitics
This is a bit of a loaded question. There are definitely some that are focusing more on affiliates and paid media, but broadly speaking they have not been fully explored to date. This is likely because these channels require experience, expertise and proper set-up in order to be successful. But given the scrutiny that current marketing activity is coming under, brands are increasingly leaning into both as they look to find efficiencies while scaling traffic. As these tend to be more supportive channels, I expect to see the percentage of overall marketing spend shift in a meaningful way towards affiliates and paid media over the next 12 months.
Troy Paul, Co-Founder and CEO at SGG
Social media remains a largely untapped channel and is – in our opinion – the future of attracting the next generation of sports and casino players. That said, in the past some of the more old-school operators haven't been particularly quick to embrace it. The reason for this might be that they didn't possess the skills or know-how to communicate with this customer demographic effectively. Affiliates can help in this respect as they often have niche audiences that operators aren't able to reach by themselves, such as social media groups or college sports fans. This can help them connect with customers outside of their traditional target audience and greatly increase their acquisition potential.
What upsides do affiliates offer? How can operators maximise the opportunity here?
Tom Galanis, Founder at First Look Games
A solid affiliate program provides the foundation for operators to grow their player base sustainably and cost-effectively. Affiliates essentially act as brand and product advocates, promoting those brands that deliver the best player experience and holding those that don't to account. This ultimately helps to raise standards while driving significant, quality traffic to those at the top of their game. Most affiliates are also willing to work with operators to help them achieve their goals – those that are properly incentivised will be willing to work to lower CPAs which are incredibly high in the US compared to more mature markets such as the UK.
Allan Petrilli, VP of Sales & Growth at Intelitics
Most affiliates are specialists when it comes to digital marketing and user acquisition. They have sizable audiences or know how to acquire them, that are primed and ready to sign up to and play at online sportsbooks and casinos, so long as those brands offer what they are looking for. Affiliates require little to no set-up costs with operators paying for what they get in terms of depositing customers. They can also provide operators with highly valuable feedback on their conversion flows, products and more – this feedback is incredibly hard to come by and can help operators improve the player experience offered, which in turn boosts acquisition but also retention.
And the same for paid media – what is the potential here and how can operators unlock it?
Tom Galanis, Founder at First Look Games
Affiliates are currently dominating the paid media space in the US market because, compared to other markets, there is a much higher margin to be made. But this means there is room for operators to get in on the action and use paid media to directly acquire customers and achieve a strong ROI. For example, paid media is the ideal vehicle to flex up acquisition during the limited window of the NFL season.
Allan Petrilli, VP of Sales & Growth at Intelitics
Paid media simply refers to placing ads across a wide range of media platforms such as Meta, Google, publisher networks and mobile networks. Campaigns can be highly targeted across location, age, interests and more to ensure they hit the right players. The key to unlocking the full potential of both paid media and affiliates is using a mar-tech platform that provides access to data in real-time. This allows operators to tweak campaigns to improve performance and to ramp up and scale back spending as and when required.
What other, cost-effective channels can operators use for brand building and marketing? What role can streaming play here? What about social media?
Michael Pedersen, CCO of Livespins
Streaming has proved to be a highly effective marketing and acquisition platform for online casino and sportsbook brands, but operators remain cautious, especially following Twitch's decision last year to ban certain operators from its platform. Livespins allows operators to overcome these concerns – because it sits within the casino lobby, players are afforded the same responsible gambling and safe gaming tools when playing traditional casino and sports, as required under an operator's respective local licences. This means they can tap into the huge – and growing – potential that streaming offers both in terms of acquisition and retention while being confident that they are fully compliant at all times.
Tom Galinis, Founder at First Look Games
I'm coming around to the idea that offline activation is an underutilised channel. We're seeing affiliates like Betting Hero and Affiliated Sports Fans gaining traction here, and operators should look to follow their lead. In terms of social media, paid social is the play for sure and in terms of building up an audience, I'd be looking to focus efforts on TikTok. The price of content generation is extortionate in the US, so I fully expect AI-generated content to come to the fore as the technology becomes more sophisticated – we're already seeing leading affiliates and some operators using it.
Allan Petrilli, VP of Sales & Growth at Intelitics
In terms of live acquisition, we will see more out-of-home campaigns and activity. It is being done by some brands at the moment, but there is so much more potential to unlock here and especially at the local level.
Troy Paul, Co-Founder and CEO at SGG
According to the most recent statistics, an estimated 75% of marketers will use Influencer Marketing in 2023, with this representing a $17.4 billion industry. Most operators are way behind in terms of tapping into this lucrative space, which is arguably the most cost-effective way of advertising to the younger generation of sports fan. In particular, micro-influencers are more engaged with their sports followers and can be utilized at a fraction of the cost of a "Tom Brady" or similar superstar influencer.
Retention is just as important as acquisition, but are operators paying enough attention to this? If not, why is that the case?
Michael Pedersen, CCO of Livespins
I disagree – retention is even more important than acquisition. Onboarding new players is just the first hurdle that operators must clear – then the real hard work begins. That's why before spending a single dollar on acquisition, they must spend $10 on ways to retain those players. If operators are not confident about retaining players, they should not spend anything on marketing to them. If they are confident, then they can launch acquisition campaigns and scale up those that are working well.  I really can't stress the importance of CRM and ensuring that players continue to wager with the brand once they have signed up for the first time. This is especially important in the US where the cost of acquisition is sky-high right now.
Tom Galinis, Founder at First Look Games
No, they're not. I'd say this is partly down to a lack of product capability to really be able to deliver organic retention, but I also think there's a firmly held belief that the activation of another local league or team sponsorship will do more than sophisticated CRM systems ever could. But operators are wrong to believe this.
Allan Petrilli, VP of Sales & Growth at Intelitics
I think they are starting to, but the future here is around personalisation. With advances in technology, the brands that use this to offer a truly bespoke player experience will be the ones that ultimately win. What does this look like? If I bet on the New York Jets each weekend, I should be able to log in to my sportsbook app and have a prefilled bet sheet each week ready and waiting to go. This is just one example, and the sky really is the limit here.
Troy Paul, Co-Founder and CEO at SGG
Having a great gambling platform is obviously a major prerequisite for successful retention, as is finding a way to engage with your players on a daily or weekly basis, such as a podcast or social media channel. In order to keep your product front and center in customers' minds, you have to go where their eyes go as they're watching games – and these days, that's increasingly their cell phone screens.
How can operators turbo-charge their retention efforts and activity?
Michael Pedersen, CCO of Livespins
It comes down to delivering a seamless player experience beyond that being offered by rival brands. This covers all areas of the book or casino, from the welcome offer to onboarding, KYC, payments and customer support. Of course, the gaming experience offered is crucial and that's why products such as Livespins are a must for operators. The Livespins experience offers an entirely new way for players to experience online casino, while being interactive and social. Session times are off the charts, and this in turn is helping operators mitigate churn and keep their players playing for longer. It also acts as a huge point of difference, adding more kudos to its ability to help keep their players coming back for more.
Tom Galinis, Founder at First Look Games
Simple. Build the best product which means not relying on the relatively poor player management systems that currently underpin the US market. This is where I feel bet365 can gain market share. Yes, they'll have to invest in ATL, but I fully expect them to get their product successfully localised and become the best product on the market. This will ultimately act as the foundation of retention at scale.
Exclusive Q&A w/ Gary Denham, founder and CEO of Wamba Technologies and Gamer's Oasis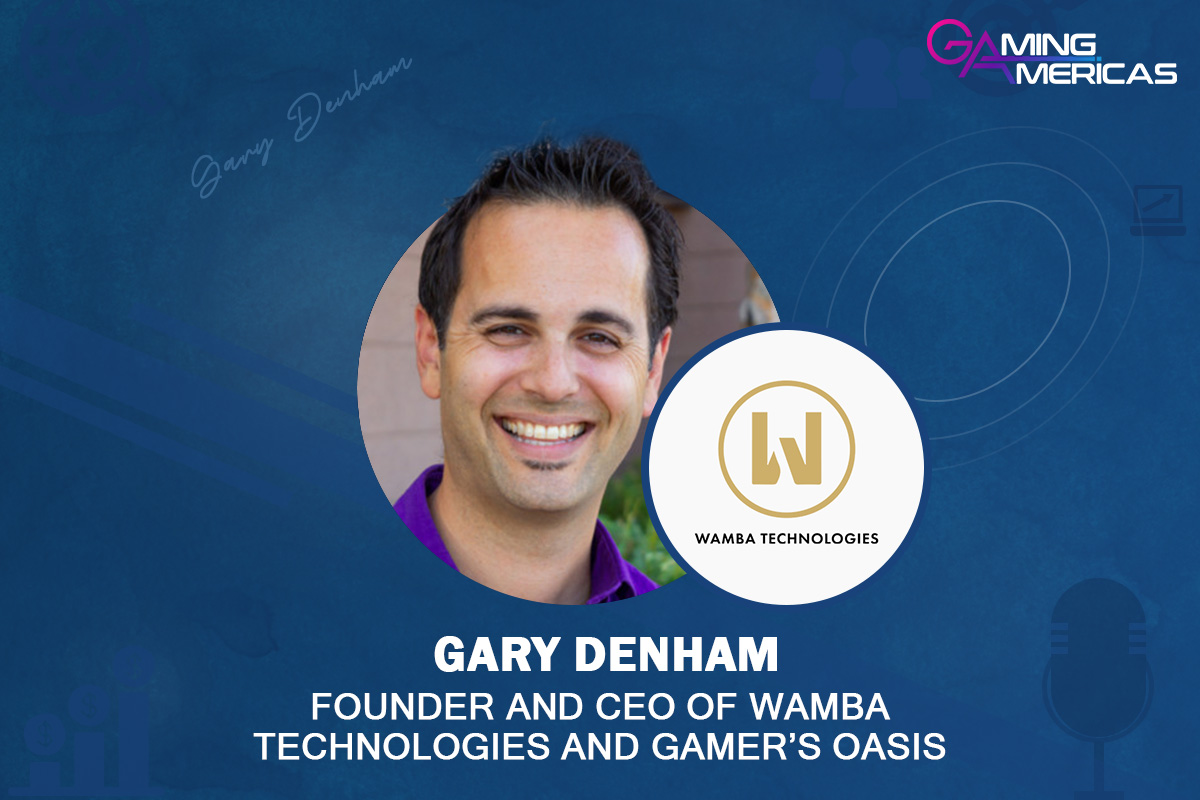 Gary, as the CEO and founder of Wamba Technologies, can you shed some light on the inspiration behind developing the patented technology for "in-game wagering" in skill-based video games?
Right now there are approximately 500 million people around the world participating in Esports. These are people who are earning money by competing in video games. Unfortunately, the vast majority of these people are not competing online when money is involved because of the anonymity and the rampant cheating anonymity causes. Only the best are able to compete online and actually make money. Instead, the majority of gamers are traveling to physical locations and competing "in person" where opponents and skill levels can be verified. What's crazy to me is that down to every last man, woman, and child, these people DO compete against each other online for fun with the very same games that they are traveling to compete in for money. This shows us that these players desire to compete online, however they just don't have a safe, user-friendly option with which to do so. This very issue is what inspired us to build a product that will give users that online, "compete-from-my-own-home" experience that they are looking for where they can pay an entry fee online, compete, and win money right then and there.
What's surprising is that most real money online video game competitions are still operating on the honor system which has led to a lot of cheating. Warzone is a great example of this.  Activision had to ban over 100,000 players from Warzone in a single week and they were not even competing for money.  That was just the "for fun" play.  Simply put, the honor system doesn't work.  For me, the most prominent indicator of this is seeing a marketplace with 500 million users that can't seem to clear $2B in annual revenue going on 10 plus years now. That says a lot.
Our technology is called Gamers Oasis. It will allow gamers of all skill levels to compete against other players,  who are at their same skill level, right from their phones, where they pay an entry fee, compete, and win money back.  Gamers Oasis won't just be for professional players either.  Very  much to the contrary, the basic idea is that anybody, regardless of skill level, can join, compete, and have a fair and reasonable chance of winning large monetary prizes. Our platform will give beginners the opportunity to compete for thousands of dollars and actually have a reasonable chance of winning, opening up the industry to something that previously was only available to the best of the best, the professionals.
With your extensive experience in the Esports and gaming industry, how do you perceive the current revenue challenges despite the massive user base? What factors contribute to this disparity?
There are a number of reasons for this disparity. Before I answer, I want to point out that there is a comparable industry that has done phenomenally well and has not had to make any excuses for their revenue.  Online poker in the United States had a mere 2 million players and was generating $900M a year in the US in 2008.  That is compared to our Esports market with 500M players generating a mere $1.38B last year.  The global Esports market is 250 times larger than the US online poker market but only generated 50% more money than the poker market.  That isn't just a disparity.  That is a tragedy.  What is more of a tragedy though is I've been to several Esports conferences and most of the people I've seen seem to think they've accomplished something with these numbers.  They are hi-fiving and patting each other on the back with congratulations.  Maybe if more of their colleagues would be honest and just speak the truth, which is "hold up there cowboy.  These numbers suck.  Not only can we do better, but we must.  What's broken?", then maybe they'd have already taken this market to where it should be.  When it comes to players competing for money, developers need to start thinking like wagering entities rather than game development entities.  If they had done THAT over the past 10 years, this industry would be a $100B a year industry right now.  The good news is with what we are doing, with what FanDuel is doing, and with what others like us are working to do, I think the industry is beginning to find its way onto the right track to getting to where it can get to.
Originally, Esports consisted of single event competitions where players went to an event, paid an entry fee, competed, won their money, and that was it.  From the Asteroids world championship tournament in 1980 until 30+ years later, that was Esports! But around 10 years ago, the large developers tried to reinvent the wheel to facilitate online Esports. Rather than sticking with the model that had existed for 30+ years at that point, the model that was proven and that worked, they abruptly tried to make online Esports like an actual sports league, like basketball or football, where players would compete for a season to win prizes at the end of the season rather than at individual events. They were trying to build a model where the professionals played and then audiences watched, and they generated revenue from the audience.  While that can be a fine model in some circumstances, unfortunately, the reality is that this model is generating around $2.80 per participant, per year, through ad sales. That just doesn't compare to that poker model featuring player values at closer to $450 per year domestically and around $205 per player per year globally. In a market where 3 billion people play video games, we want to focus on total inclusion and try to include as many of those players as possible.  Whereas the current industry seems to be focused on creating viewers to watch "the best of the best", we want to create players in everybody.  You have to remember, every player is also a viewer.  Don't get me wrong, we will still be streaming everything and focusing on viewers as well, but that's kind of my point. Our model gets all the same viewers, but exponentially more players at an exponentially more valuable "per player" rate of revenue.
Online poker got it right by featuring hundreds or even thousands of events, every day, fully automated, available 24/7, where the host company charges a fee every time a player buys into a competition.  As a result of this model, online poker was generating around $450 per player per year in the United States as compared to the $2.80 per participant per year that the current Esports model is generating. In fact, a company by the name of Skillz followed a model similar to ours and, as a result, generated almost 25% of the global Esports revenue last year despite only having 0.8% of the players. That really says it all right there.  That is a terrific real world example of what I am saying.
After 10 years of trying this league-based model for online Esports, game developers need to finally admit that it's just not working.  They need to stand up, say "this failed, and that's ok.  We learned from it", and then get back to what we know has been proven. It is time to get back to the basics!  Back in 1980, when the game "Asteroids" held a world championship tournament, they had the same player turnout as the largest World Series of Poker event in history which happened this year in 2023. More than 10,000 players showed up, in person, from around the globe!  Single event tournaments where players pay an entry fee, compete, and can win money back right then and there is what players have always done and is what they want.  They don't want to have to wait 13 weeks to get paid at the end of a season. They don't want to be forced to travel to compete in a real money tournament. They want simplicity and instant results.  If developers will get back to that, utilizing today's technology to make it online, automated, and available 24/7, they will make exponentially more money and turn this industry around on its head.
How does the introduction of "in-game wagering" capabilities potentially revolutionize the profitability landscape for Esports?
It changes everything.  There is nothing else that comes remotely close to generating revenue like this model. If we can cause Esports to achieve comparable results as to online poker, and we can, then we are talking "per player per year" values skyrocketing to the $400 to $500 per year range.  Compared to modern successful games clocking in at between $5 – $15 per player per year from ad sales and in-game purchasing, or current Esports values of around $2.80 per participant per year, there's just no limit to the possibilities once this more profitable option becomes widespread.  When games begin realizing the massive difference in returns by adding this feature and having it properly monetized, they will be able to spend a significantly larger amount of money on things that ultimately lead to a better player experience; Customer service, quality control, more aggressive beta testing leading to less bugs on launch, anti-cheating countermeasures which are truly effective, etc.  When the difference is this significant, there may come a time where if a game does not feature this capability, it will be very difficult to compete with the quality of games which do due to all of the enhanced capabilities I just mentioned.
In your opinion, what are the ethical considerations when introducing wagering into skill-based video games, especially considering the diverse age demographics of players?
Wagering into skill-based video games has been done since 1980 when Asteroids had their first world championship and more than 10,000 players showed up to compete and hand their entry fees over. From that point in time until now, it has been available to all ages, though sometimes requiring parental consent for those under 16 or 18, depending on the region's laws.
But when speaking of ethics as it pertains to the diverse age demographics of players, I would have to suggest that ethics do not play a part where age is concerned.  Rather, ethics plays a part where skill level is concerned, regardless of age. To address this particular matter, the platform we are designing, "Gamers Oasis," will match up players based on their skill level to ensure that regardless of your experience you still have a fair and reasonable chance of earning money by competing with us.  Whether you are a phenomenal player or just plain out suck at your favorite game, it won't matter.  If we've done our job right, both players will have a fair chance of winning big money when competing on our platform.  If this is accomplished, then I think we are satisfying all ethical issues here.
To address any concerns with age, kids competing with Esports has been a staple of the sport since its inception.  In 2019, 16-year-old Kyle Giersdorf just won $3M competing in Fortnite.  I think that the morality of kids competing is something that each family needs to decide for themselves.  We live in a society of tech companies that have continuously and increasingly been imposing their vision of morality on the world around them. We want to make sure to stay away from that where this matter is concerned.  If you do not want your child to compete, we will have parental safeguards in place to ensure that your wishes are supported and respected.  And if you are ok with your child competing, well, we will accommodate that as well.
Esports has seen exponential growth in terms of viewership and participation in the past decade. How do you envision its trajectory in the next 5 years, especially in terms of revenue generation?
There is a lot of chaos where Esports is concerned and this has led to tremendous confusion. With our patent, we have an opportunity to seize a degree of control in this industry. Our desire is not to mold it to our beliefs, but rather to hold the industry true to what we have seen that it wants. Offering league and season based Esports play rather than the single event structure that players had become used to for over 30 years is a really good example of that. So, as we use our patent to get an automated system going where anyone, regardless of skill level, can sign up and enjoy the competition, we expect to see revenue generation going up exponentially throughout the industry as per player value increases alongside this exponential increase in user participation.
Lastly, could you share some insights on how Wamba Technologies plans to collaborate with game developers and Esports organizers to integrate and popularize the "in-game wagering" feature?
We patented the methodology of programming video games so that players could pay an entry fee, compete, and win money back over a computerized network.  While we absolutely will offer this "in-game wagering" feature, considering that there are presently around 500 million people who are competing with video games to try and win money in real life, it doesn't need popularization. I'd say it simply needs visibility.
We will be working with game developers and licensing our patent to them to ensure that more and more games offer this type of competition where players can pay an entry fee online, compete, and win money back. This will help create a degree of consistency across a wide range of games. We intend to eventually put together an advisory board consisting of representatives from the games offering this feature so that we can constantly have our finger on the pulse that is the lifeblood of this industry, the games themselves. We want to work with the developers to ensure that this industry gets to a point where the players are actually worth $400-$500 per player per year or more. Then, we can then focus on taking a significant portion of that money and putting it into things that will ultimately give gamers a better overall experience, things like R&D, security, customer service, anti-cheating, and more.
Epoxy.ai: Latin America in focus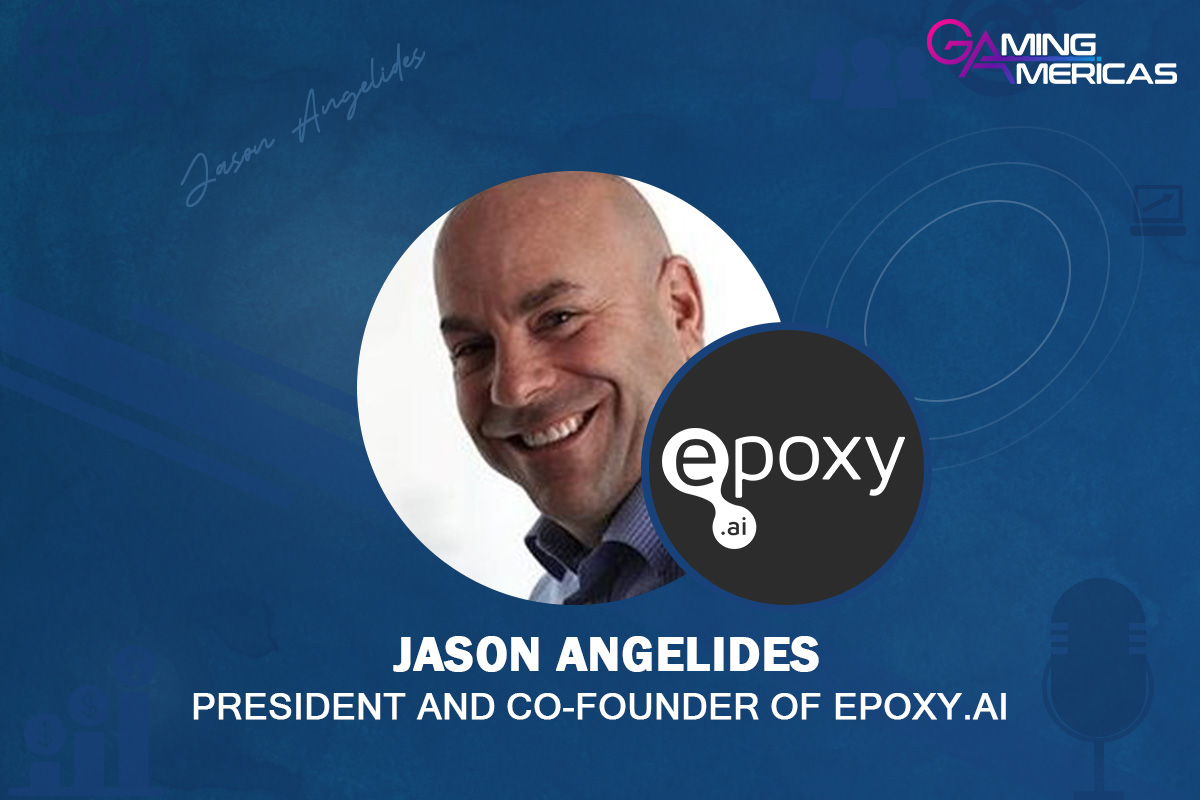 We spoke to Jason Angelides, President and Co-Founder of Epoxy.ai, about the suppliers impressions of the recent SBC Latinoamerica summit, and why LatAm is the next battle ground for iGaming innovation.
What are some of your key takeaways from the SBC Latinoamerica Summit?
In short, a big takeaway is that gaming is very much alive and well in Latin America. There is a strong sense of excitement about the long-term prospects of the industry in the region and one thing that was clear is that technology and innovation is a key piece of the core strategy moving forward.
In a hyper competitive, emerging environment like Latin America, differentiation is especially critical, and it was noticeable how much interest there was in new and emerging technologies, such as AI, as brands look to use whatever tool they can to stand out.
The untapped potential of the Latin America market is well-documented by now, is there anything specific about the market that excites you and why?
I think it's no secret that, with a number of emerging or fledgling markets, new technologies will have a huge role to play in how these landscapes fulfil their potential, which makes Latin America really unique.
Gaming is just part of a larger entertainment ecosystem that is thriving in the continent, and the passion of the people and their appetite for new ways of engagement make Latam a tremendous place to innovate and grow the industry.
Heading to Miami as one of the industry's true pioneers in AI-based personalisation, how do you plan to tailor your offering for the LatAm market?
By definition, AI is a technology that adapts itself to the behaviours of users and automatically tailors presented content to align with an end users' preferences.
I think the real opportunity in Latin America is to get to a point where AI can bridge multiple forms of entertainment around gaming into a more unified customised user experience that feels connected. If we can achieve this, it will be an incredibly exciting prospect for not just us, but the entire industry.
How do you go about setting yourself apart from other competitors who may have similar interests in the LatAm market?
We're adamant in our belief that AI is not just a plug and play product, but a collaborative solution that needs to be adapted to the specific requirements of each of the individual organisations we work with. One of our key differentiators is the ability for our platform to be adapted to support those different needs and to drive the key metrics that each of our partners desires.
We take a very hands on approach to adapting our technology and also implementing it in a way that helps the technology grow, so it learns and becomes more valuable across the broader industry.
Can we expect any exciting developments in LatAm from you in the near future?
We don't want to give too much away, but you can expect to see some announcements in the near future as we bring the Epoxy.ai technology to the Latin American market. It is one that boasts incredible potential, and we're confident that in a region as diverse and active, our AI solutions will be able to bring a real powerful point of differentiation to operators and suppliers in the region.
How BETBY plans to make an impact in LatAm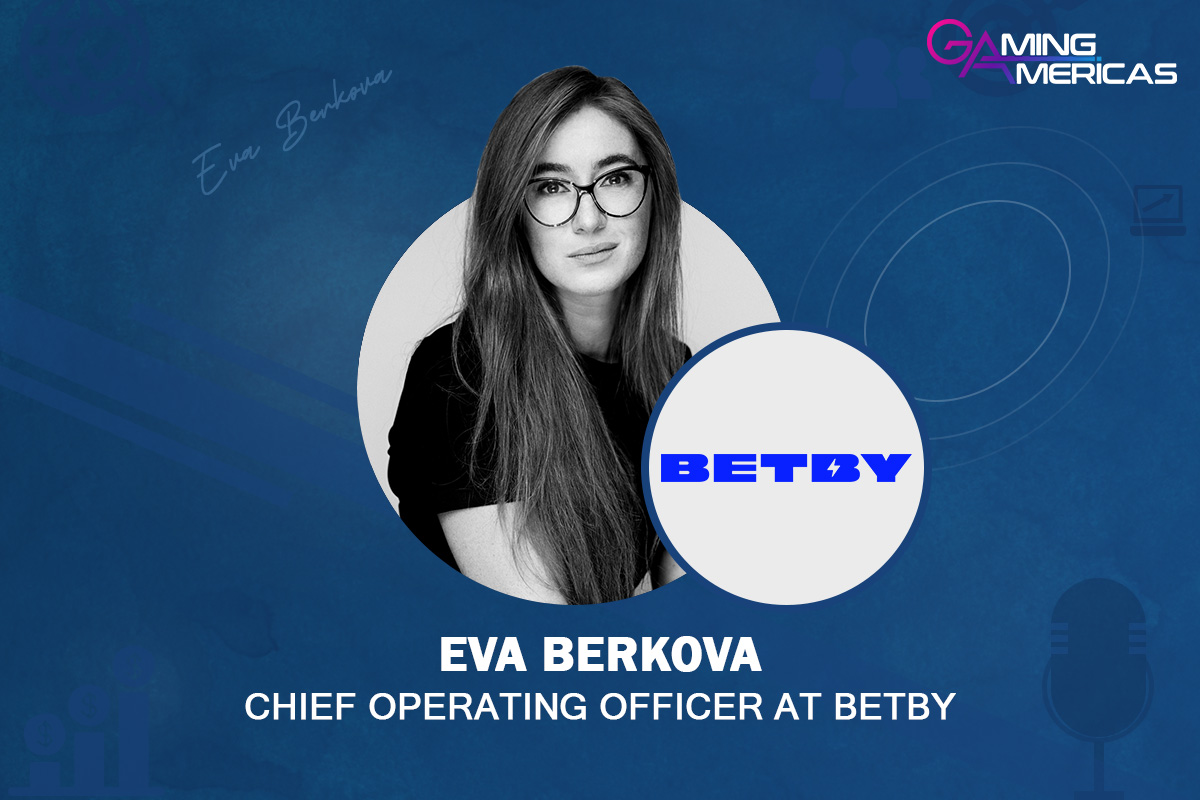 BETBY is firmly focused on making a splash in Latin America and recently attended the inaugural SBC Latinoamérica Summit. COO Eva Berkova talks about the key takeaways and plans for the region in 2024.
From a BETBY perspective, what are some of your key takeaways from the SBC Latinoamerica Summit?
After visiting this exhibition, it has become even more evident to us that Latin America rightly deserves to be a key focus for us, and we look forward to making a concerted effort to capitalise on the excitement this market brings. We already have several big partners here, but the region is very dynamic, and we are firmly convinced that we are going the right way, putting LatAm as one of our key focuses.
At the exhibition we saw genuine interest in our product from delegates who know the workings and nuances of the LatAm landscape, and such are the opportunities in Latin America, we do not want to veer away from the territory and enhance our product portfolio to its passionate sports betting audiences.
With a wide range of operators, affiliates, regulators, and many other industry delegates in attendance, were there any key learnings that will influence your decision making for planning a long-term strategy for any expansion into the region?
For some time now we have been planning to introduce BETBY into the local market with a physical presence, and showcase the power and ingenuity of our products. After visiting the exhibition, our opinion was validated, personal connections and everyday communication are the cultural norm in this region, which really appeals to our company, and not only in business terms.
Constant communication is a key characteristic of the people of this region. Visiting the exhibition reaffirmed our belief that in order to strengthen BETBY's position here, we need to expand our physical presence in the form of our own LatAm office with a Spanish-speaking team.
The untapped potential of the Latin America market is well-documented, what is it about the market that excites BETBY most?
The LatAm market appeals to us because of its breadth and appetite for sports. In this market, there is also a huge opportunity to promote esports. Esports in LatAm is still a niche that is not very saturated with content and offers, as there is a sustained promotion of traditional sports that are hugely loved in the region like basketball, baseball, and soccer.
The potential of the market is truly enormous, without exaggeration. With our mentality and extensive sportsbook solution, BETBY's products and ethos weave perfectly into the local fabric – both in terms of our company values and business approach.
How do you go about setting yourself apart from other competitors who are targeting the LatAm region?
For much of the LatAm population, sport is their life, exuding passion and love for their favourite teams and individuals. Many championships and tournaments are held here on a regular basis, which are of interest to local bettors. As BETBY has its own trading department, we can offer odds and markets for these local tournaments. This is one of our many unique selling points that sets our company apart.
Esports in LatAm is becoming increasingly popular, how will your Betby.Games offering cater capitalise on this growth?
The role of esports in LatAm is not that big yet, but it certainly has the potential to be. FIFA and Valorant are generally popular here, and BETBY offers three types of FIFA content in addition to a large esports package, which also includes Valorant.
But the greatest interest is in Betby.Games – BETBY's own product. An AI-powered sports feed with game mechanics that excludes human interference on the outrights, Betby.Games offers fully localised and customisable leagues and tournaments that includes the Libertadores Cup and South American Cup, which are of particular interest to local bettors.