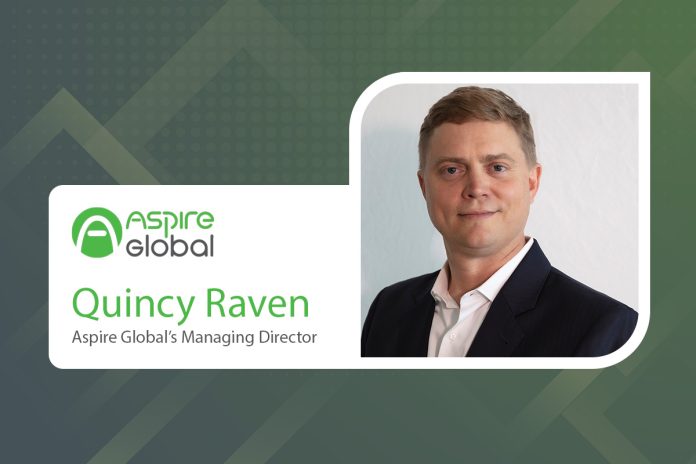 Online lottery platform provider NeoGames recently completed its acquisition of Aspire Global, in a deal designed to turbo-charge the growth of both parties in North America. Quincy Raven, Aspire Global's Managing Director – US, talks to Gaming Americas about how the partnership makes perfect strategic sense, given both parties' shared heritage and joint aspirations.
How does the acquisition change the way Aspire Global approaches the opportunity in North America?
The NeoGames transaction is completely transformative for our growth trajectory in the North American market. NeoGames and Aspire Global were previously within the same company, before NeoGames addressed what was then a niche proposition of iLottery in North America and subsequently expanded on a global basis. In parallel, Aspire Global was growing successfully in Europe, Africa, Latin America and North America – a process that is still ongoing, of course. Succinctly, within my remit here in the United States, NeoGames brings 17 state licenses to Aspire Global. That provides us with immediate opportunities in each of those states and those licenses – be it iGaming or iLottery, depending on the jurisdictional authority – will accelerate our business dramatically.
How will these competitive advantages present themselves?
When I first joined Aspire Global last summer, we were looking at the United States as a very new market from a platform viewpoint. I have spent time speaking with a wide range of people from commercial, product, and services perspectives, as well as getting involved into the detailed with regulators. From there, we have been working with our product and operational teams to ensure we were absolutely, 100% ready for the moment we deliver our entire suite of products and managed services to a US operator. In North America, it is about replicating the best practices we have implemented in other regions.
To provide a specific example, NeoGames' partner Caesars, a key customer through their acquisition of William Hill, runs on the NeoSphere (PAM) platform. That proof of execution and scalability demonstrates exactly what we can achieve for operators here in the US and Canada. The same technology we use to support a national brand to roll out from state-to-state within a central platform can then be utilized on a localized basis. For tribal casino operators, this means they have access to platform technology that is nimble, modern and adaptable to be able to cater to local patrons or as part of a multi-state strategy.
What is the importance of the PAM being utilized by both NeoGames and Aspire?
We have been using the same PAM back-end between companies for the entirety of NeoGames' existence. The sharing of this code and expertise presents us with a competitive advantage when talking to operators of any size. There is always a desire from operators to differentiate themselves, to find that uniqueness that resonates with their patrons in their target markets. Given the state-by-state approach to regulation we have here in the US, there are regional differences from a compliance standpoint which in some cases affect the player experience. When it comes to updating features or amending regulatory requirements within the PAM, if an operator has to address every instance in each state, rather than taking a roadmap approach which is released once and deployed across a network, that is a major advantage that we and our partners benefit from.
While sitting down with operators that use other providers and discussing exactly what our platform is capable of and how we support their brands with services, the response has been resounding, particularly when it comes to our CRM capabilities. If you look at the US market over the past year, there has been widespread realization by operators that casting the broadest net possible, with seemingly endless deposits bonuses, isn't sustainable. Instead, player marketing focused on specific segments and offering real-time, in-app bonusing and experiences, allows the operator to attract the right profiles and retain patrons in this highly competitive market. Retention is something that Aspire has been honing for years, beginning as a B2C and now a pure-play B2B provider driving profitable growth. With our platform, the same premium product is presented to the player, backed by our CRM tools that drive sustainable long-term growth. Given the sophistication, at every player touch point, operators are able to make better informed marketing decisions.
Finally, how has the acquisition affected the way both companies operate?
The completed transaction gives us two company divisions. In total, we are a fully digital company that is iGaming, iLottery, and sportsbook, all wrapped up with Managed Services. Within our organization, we consist of two separate divisions – one with a lottery leaning, the other online gaming – that share technology. In terms of my day-to-day role, it means that I work in exactly the same way I did before, but with additional resources at my disposal.
A great example is our NeoGames operations hub in Lansing, Michigan. This operation center cover everything from customers service, VIP management, risk and fraud through the entirety of the player journey – in a country where localized talent and an understanding of our customer tendencies and preferences is priceless. In the iGaming space, for Aspire Global it means there's already robust infrastructure in place that we will utilize as our operational hub. Interestingly, though, it was actually Aspire that originally set up the operation with NeoGames seven years ago, so it's exciting to see how things have come around in a full circle.
Aspire Global is exhibiting at G2E Las Vegas 2022, which takes place at The Venetian Expo, from 10th to 13th October, at Stand 2032.