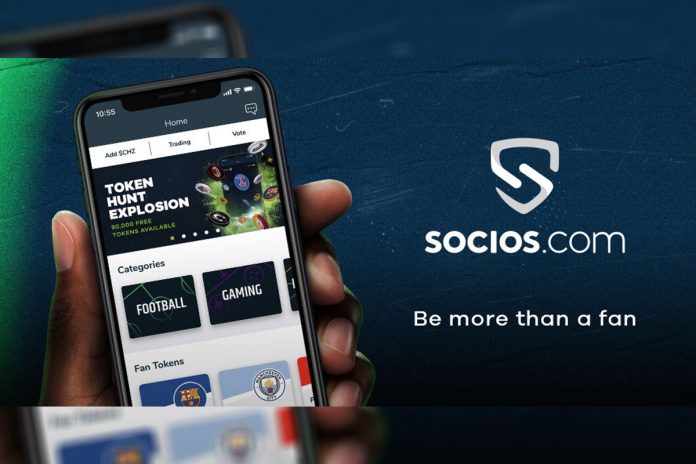 Socios.com, the all-in-one influence and rewards app for sports fans across the world, announced its first foray into the worlds of American football and soccer via a groundbreaking partnership with Kraft Sports + Entertainment's New England Patriots and New England Revolution.
The partnerships with the Patriots and Revolution represent Socios.com's first deals with clubs in the National Football League and Major League Soccer, respectively, adding to the 24 National Basketball Association franchises that have existing agreements with the leading global blockchain provider for the sports and entertainment industry.
"Kraft Sports + Entertainment is home to one of the winningest franchises in NFL history, as well as the top team in Major League Soccer this season, so we are ecstatic to welcome this prestigious, successful group into the Socios.com family. We look forward to partnering with the Patriots and Revolution to increase their fan engagement as we continue our surge into the U.S. sports industry," Alexandre Dreyfus, CEO of Socios.com, said.
The Patriots will use the partnership to engage with their fan base through activities available in the Socios.com mobile app. Similarly, "Patriots Fan Predictions, presented by Socios.com," will reward New England fans with prizes for correctly answering five matchup-related questions during each week of the season on Patriots.com and the Patriots mobile app. The partnership also positions Socios.com as the official sponsor of the Patriots' indoor practice field house.
"Socios.com is an industry leader in utilizing new technologies to engage fans in creative and imaginative ways. We look forward to teaming with them and exploring the technologies available to reach new audiences and provide additional fan enhancements," Jim Nolan, chief operating officer at Kraft Sports + Entertainment, said.
The Revolution, winners of the 2021 MLS Supporters' Shield as the regular season champions for the first time in their 26-year history, enter the postseason as the No. 1 seed in the 2021 MLS Cup Playoffs. Socios.com will become the official sponsor of the Revolution's training center and will display in-stadium signage during action for both teams. Socios.com will also present a fan prediction poll throughout the Revolution's run in the MLS Cup Playoffs this season where fans can win prizes, including tickets and autographed merchandise.
"We are excited to partner with the pioneering team at Socios.com, a global leader in cutting-edge fan engagement, to offer new and innovative experiences for our fans to connect with their club. The Revolution look forward to collaborating with Socios.com to enrich the fan experience both virtually and at the stadium, providing them with more access to their favorite club and players than ever before," Revolution President Brian Bilello said.