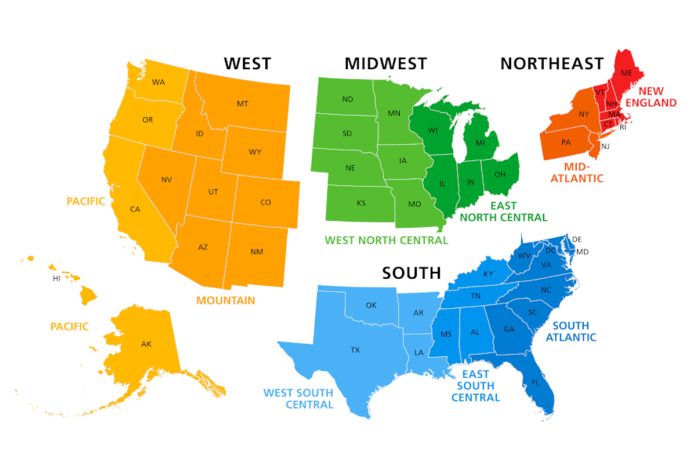 Residents of the United States are considered the most active users of online bitcoin casinos. Research company Newzoo analyzed the country's online gambling market and compared US gamblers with gamers from other countries.
American gamblers in comparison with others
Newzoo research shows that around 73.9 million US residents are active users of online and bitcoin casinos. Among them, 52% gamble for real money, and 2.6% are high rollers. For comparison, the company has counted the number of casino players in the UK and Australia. For example, among English casino customers, 64% of 8.9 million players bet on money, and 3% of them prefer to leave significant sums in a gambling establishment.
Australian players are less active, only 2.4 million become clients of online and bitcoin casinos, and 43% of them gamble on money. But the percentage of high rollers is higher, 3.4% of Aussies spend large sums in casinos. Based on this data, we can say that American players love to gamble on money, on the other side they aren't "hot gamblers".
Who is playing in the bitcoin casino USA
An analysis of the age category of American casino customers showed that:
the most active users are men aged 36 to 50 (21% of the total);

the second position is taken by women aged 36-50 years, their 16%;

and in third place are men from 26 to 35 years old.
The less active users of USA Bitcoin casino were women aged 18 to 25. Only 6% of American women in this category prefer gambling. If we compare the number of players by gender, then the most active are men. However, there are only 5% more male bitcoin casino players than women. It is worth noting that the statistics for Australia and the UK are not very different. In these countries, 56% and 54% of gamblers are men.
Bitcoin casinos USA and the American players solvency
According to the research, men play the most for money in American bitcoin casinos. 58% of them make small bets, while 42% prefer to gamble for large or middle bets. Females don't leave large sums in the US bitcoin casino. If we compare the category of women aged 26-35, then 16% prefer to make small bets, and 12% play with high stakes. This suggests that American men are more daring than women.
Popular games at USA bitcoin casinos
According to US market research, the most popular gambling online game is bitcoin poker. More than 27% of US gamblers prefer to play this game. The second position is taken by bitcoin slots, more than 26% of Americans are actively playing this game online. The third place among US bitcoin casino customers is occupied by bingo. It is played by 17% of gamblers. Blackjack is only in fourth place and this is strange. American filmmakers are constantly promoting this game, maybe this is the sign that movie advertising doesn't work so well anymore. Roulette and other gambling games are of lesser interest for Americans.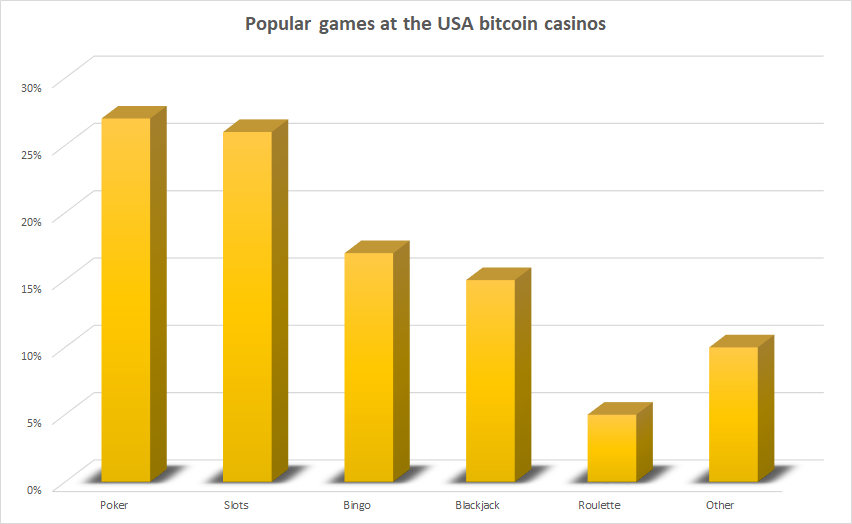 How to choose the best USA bitcoin casinos?
Depending on the state you live in, there are different criteria according to which you have to choose the US bitcoin casino and it can be difficult. Here are some tips to follow to make it easier for you:
Choose a Reputable Site

– The ability to trust your bitcoin casino is important given the fact that you are about to deposit real money into your account. Make sure the site is licensed by the appropriate gambling authority, which depends on your state.

Look for a big selection of games

– The best sites won't only have a large catalog of games but all varieties of them. Look for bitcoin USA casinos that will have games that you will be interested in playing. You should also check which software developers are listed on the site. For example, NetEnt and Microgaming are always a sign of high quality.

Check the welcome bonus list

– Each bitcoin casino offers special bonuses for new players. You can easily get a few hundred dollars without doing anything by simply registering and depositing funds into your account. Always read the full bonus rules to make sure it doesn't come with strict wagers.