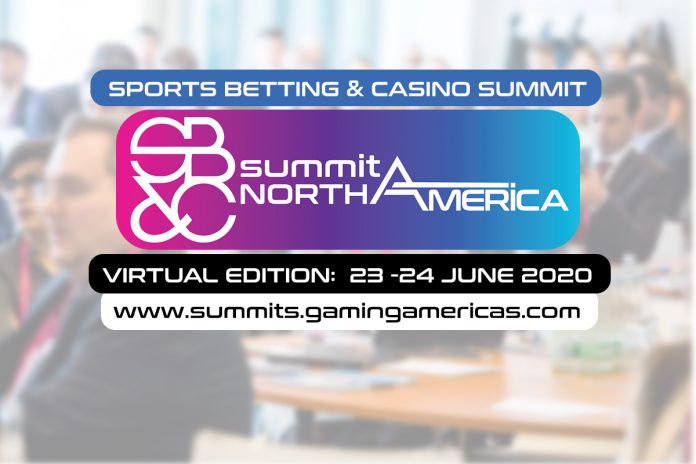 With less than 5 days left until the Sports Betting & Casino Summit North America (Virtual Conference) will open its virtual doors between 23-24 June, we created an extensive list in order to highlight the 4 top reasons why you should attend!
1. +50 Top industry experts are sharing their insights about the North American gaming industry and talking about the post-COVID-19 era.
Sports Betting & Casino Summit North America (Virtual Conference) gathers more than 50 industry experts who are joining the discussions and sharing vital information with the participants. Here is the list of all confirmed speakers:
– State Representative Brandt Iden (61st District in the Michigan House of Representatives)
– Kip Levin (President of FanDuel Group)
– David Highhill (Vice President, Strategy and Analytics at National Football League (NFL))
– Jeremy Kleiman (Gaming Attorney and Member at Saiber LLC)
– Dr. Joerg Hofmann (Partner at MELCHERS LAW)
– Bill Pascrell, III (Partner at Princeton Public Affairs Group, Inc.)
– Joe Asher (CEO at William Hill US)
– Adam Greenblatt (CEO of Roar Digital, LLC)
– Benjie Cherniak (Managing Director of SG Digital's Don Best Sports group)
– Nick Papadoglou (Chief Commercial Officer at Intralot Inc/US – Head of Sports Betting in the US)
– Evan Davis (Sports Wagering Consultant at Pivot Sports Group)
– Jon Kaplowitz (Head of Penn Interactive)
– Wayne Kimmel (Managing Partner of SeventySix Capital)
– Jay Kornegay (Vice President Race & Sports Operations – Westgate LV Resort & Casino)
– Seth Schorr (CEO of Fifth Street Gaming and Chairman of Downtown Grand Hotel & Casino)
– Matthew Holt (President at U.S. Integrity)
– J Moses (Investor & Board Advisor of Bet.Works)
– Grant Johnson (CEO at Esports Entertainment Group)
– David McDowell (Chief Executive Officer and Co-Founder at FSB​)
– Mark Robson (Co-Founder at Champion Sports​)
– Marek Suchar (Head of Partnerships at Oddin.gg).
– John Gordon (CEO & Co-Founder of Incentive Games)
– Araksi Sargsyan (Head Of Business Development at DS Virtual Gaming)
– Lazar Miučin (VP of Strategic Partnerships at NSoft)
– Martin Wachter (CEO at Golden Race)
– Jaka Repanšek (Media and TECH Law Expert).
– Dr. Laila Mintas (Advisor and C-Level Executive at Dr. Mintas Consulting)
– Sara Slane (Founder at Slane Advisory)
– Daniel J. Kustelski (CEO & Co-founder at Chalkline Sports)
– Dmitry Starostenkov (CEO at Evenbet Gaming – the leading poker platform provider)
– Ismail Vali (Chief Product & Marketing Officer at A GAME ABOVE ApS)
– Karen Marcela Sierra-Hughes (Director, Latin America and Caribbean Government Relations and Business Development at Gaming Laboratories International)
– Charles Harper (Head of North America at iGaming Academy)
– Pieter Remmers (Chairman of G4 (Global Gambling Guidance Group))
– Eric Weiss (Deputy Executive Director, Technical Services at N.J. Division of Gaming Enforcement)
– Kevin Quigley (Indian Affairs & Gaming Business Counsel at Foley & Quigley PLC)
– Tom Foley (Foley & Quigley Law PLC)
– Jonodev Chaudhuri (Chair, Indian Law & Policy Practice at Quarles & Brady LLP).
– Ilkim Hincer (Executive Vice President & Chief Legal Officer at Hard Rock International)
– Benjie Levy (President/COO at Score Media and Gaming Inc)
– Chantal Cipriano (Gaming & Regulatory Lawyer at Dickinson Wright)
– Fernando Saffores (Founder & Director at Focus Gaming News).
– Keith S. Whyte (Executive Director at the National Council on Problem Gambling)
– Martin Lycka (Dir. of Regulatory Affairs at GVC)
– John Millington (Head of US Operations for EPIC Risk Management)
– Jack Symons (Co-Founder & Director at Gamban)
– Mohit Kansal (Partner at the Clairvest Group)
– Julian Fialkow (Senior Investment Associate at DRIVE by DraftKings)
– Ahmad Nassar (Chief Executive Officer of OneTeam Partners LLC)
– Chad Stender (Managing Director at SeventySix Capital)
– David VanEgmond (Head of Strategy & Corporate Development at Barstool Sport)
– Lloyd Danzig (Founder & CEO at Sharp Alpha Advisors)
2. Quality discussions on important topics
The conference will feature 13-panel discussions that span over the two days (23-24 June). You can view the program on this link to check the timetable!
The panel discussions which are in the program are the following:
THE STRATEGY OF RESTARTING THE ONLINE SPORTS BETTING INDUSTRY
NAVIGATING THE SIGNIFICANT CHALLENGES & OPPORTUNITIES IN US SPORTS BETTING & ONLINE GAMING IN AN EVER CHANGING WORLD POST COVID-19
THE FUTURE OF LEGALIZED SPORTS BETTING IN CALIFORNIA, FLORIDA AND TEXAS
OUTLOOK FOR US GAMING – WHEN CAN WE EXPECT THE US GAMING MARKET TO NORMALISE
LAS VEGAS – RE-LAUNCH OF THE STRIP
ESPORTS BETTING VS CLASSIC SPORTS BETTING IN NORTH AMERICA
VIRTUAL GAMING, IS IT GAINING TRACTION IN AMERICA AND CANADA?
INNOVATION DURING AND POST COVID-19 – HOW IS THE INDUSTRY ADAPTING?
COMPLIANCE AND CERTIFICATION DURING COVID-19
TRIBAL GAMING INDUSTRY – A NEW ERA
THE FUTURE OF ONLINE GAMING IN CANADA
RESPONSIBLE GAMING: LESSONS LEARNED FROM EUROPE AND VICE VERSA
THE CURRENT & FUTURE STATE OF THE SPORTS BETTING INVESTMENT LANDSCAPE
3. The right time to talk about online gaming in North America
The global online gambling market size was valued at USD 53.7 billion in 2019 and is expected to grow at a compound annual growth rate (CAGR) of 11.5% from 2020 to 2027.
The spread of COVID19 has accelerated the demand for online gambling. Moreover, increasing digitalization coupled with secure digital payment options are also some factors contributing to online gambling market growth. The market is further expected to gain momentum over the forecast period attributed to the rising use of digital currency and websites provided by companies for betting and gambling.
4. 8 hours of online networking, easy to use platform
We have enabled +8 hours of networking during which you can have one on one meetings with attending participants.
The free networking sessions are held between 8:00 – 12:00 AM (EDT – New York Timezone) on both day and give you the opportunity to create new contacts and possibly tie new deals and not miss out on the education, which starts at 12:00 AM (EDT – New York Timezone).
The virtual seats are limited, so hurry and register now to secure your seat(s)!
Do not miss this unique opportunity to attend a virtual conference that gathers all North American gaming industry experts for 2 days of discussions and networking. Register your seat now!