Pennsylvania Gaming Control Board Levies $147,500 in Fines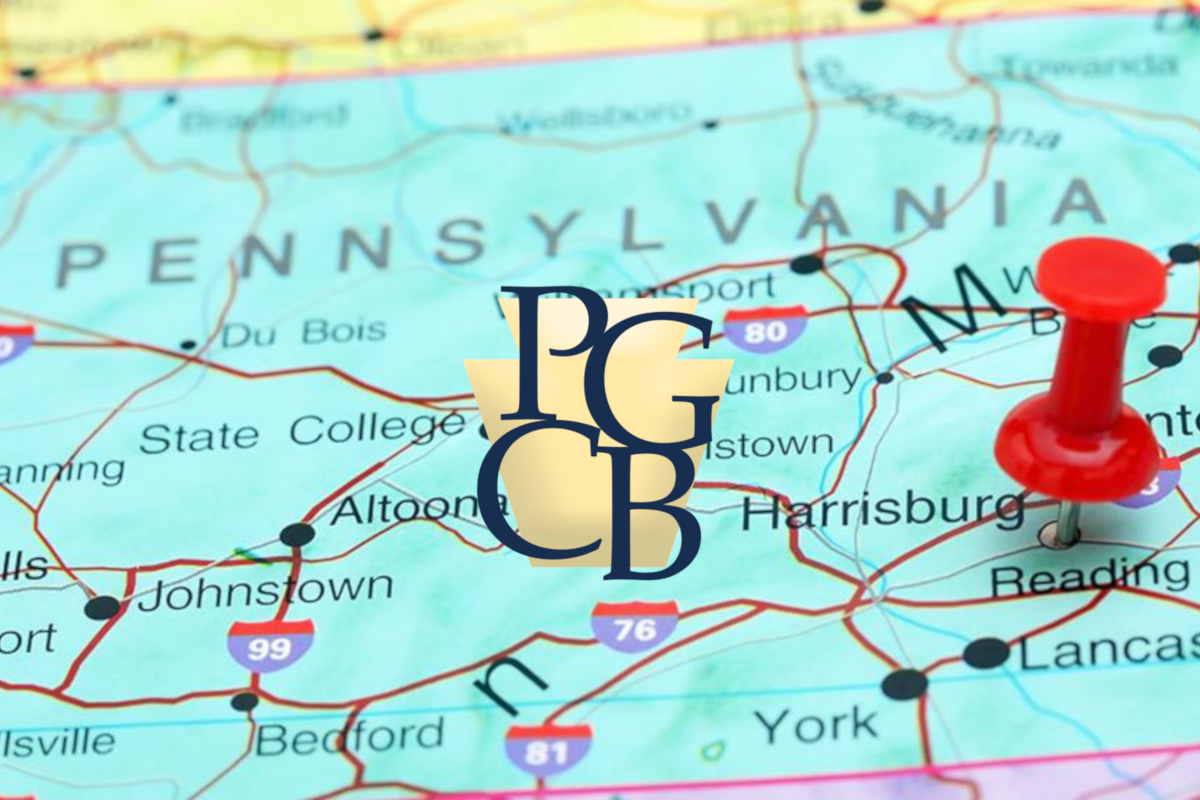 Pennsylvania Gaming Control Board also places three adults on exclusion list for gambling at casinos while leaving children unattended
The Pennsylvania Gaming Control Board has approved three consent agreements presented by its Office of Enforcement Counsel (OEC) during its public meeting regarding violations that occurred at three casinos. Total fines levied were $147,500.
The approved consent agreements were the result of negotiations between OEC and:
* Mount Airy #1, LLC, operator of Mount Airy Casino Resort in Monroe County was fined $120,000 for failure to timely submit internal audit plans, a stipulation of its statement of conditions for licensure.
* Downs Racing, LP, operator of Mohegan Pennsylvania casino in Luzerne County, received a fine of $20,000 for two incidents in which supervisory employees worked without the proper Pennsylvania Gaming Control Board-issued permit.
* Sugarhouse HSP Gaming, LP, operator of Rivers Casino Philadelphia, a $7,500 fine for not properly notifying its security and surveillance staff along with law enforcement about an alleged cheating incident at a table game involving marked cards.
Copies of the approved consent agreements offering more details on these matters are available upon request through the Pennsylvania Gaming Control Board's Office of Communications.
The Pennsylvania Gaming Control Board also acted on petitions to ban three adults from all casinos in the Commonwealth for leaving a total of six children unattended in order to engage in gaming activities:
* A male patron was placed on the involuntary exclusion list after leaving three children, ages three, eight and ten, unattended in a vehicle in the Mohegan Pennsylvania casino parking lot while he wagered at the sportsbook.
* A female patron was placed on the involuntary exclusion list after leaving two children, ages two and five, unattended in the food court at Valley Forge Casino Resort in order to wager at the sportsbook and later, once again, left the children unattended in a vehicle in the casino's parking lot but was approached by security before she was able to gamble.
* A female patron was placed on the involuntary exclusion list after leaving her 13-year-old child unattended in a vehicle at Hollywood Casino at Penn National Race Course while she cashed a check and gambled on slot machines.
The Pennsylvania Gaming Control Board's actions serve as a reminder that adults are prohibited from leaving minors unattended in the parking lot or garage, a hotel or other venues at a casino since it creates a potentially unsafe and dangerous environment for the children.
Leaving minors unattended at a Pennsylvania casino also subjects the offending adult to criminal prosecution in addition to exclusion from all Pennsylvania casinos.
The Pennsylvania Gaming Control Board is reporting that since the start of 2022 through March of 2023 it has identified 344 incidents of adults leaving children unattended to gamble at Pennsylvania casinos involving 568 minors.
For more information on this issue and to assist in bringing awareness of this problem, you can visit the Pennsylvania Gaming Control Board's special Don't Gamble with Kids campaign website. The next meeting of the Pennsylvania Gaming Control Board is scheduled for 10:00 am, Wednesday, May 24, 2023, in the Pennsylvania Gaming Control Board's public hearing room located on the second floor of the Strawberry Square Complex in Harrisburg.
GeoComply and Citi launch the second edition of "The Challenger Series" in Las Vegas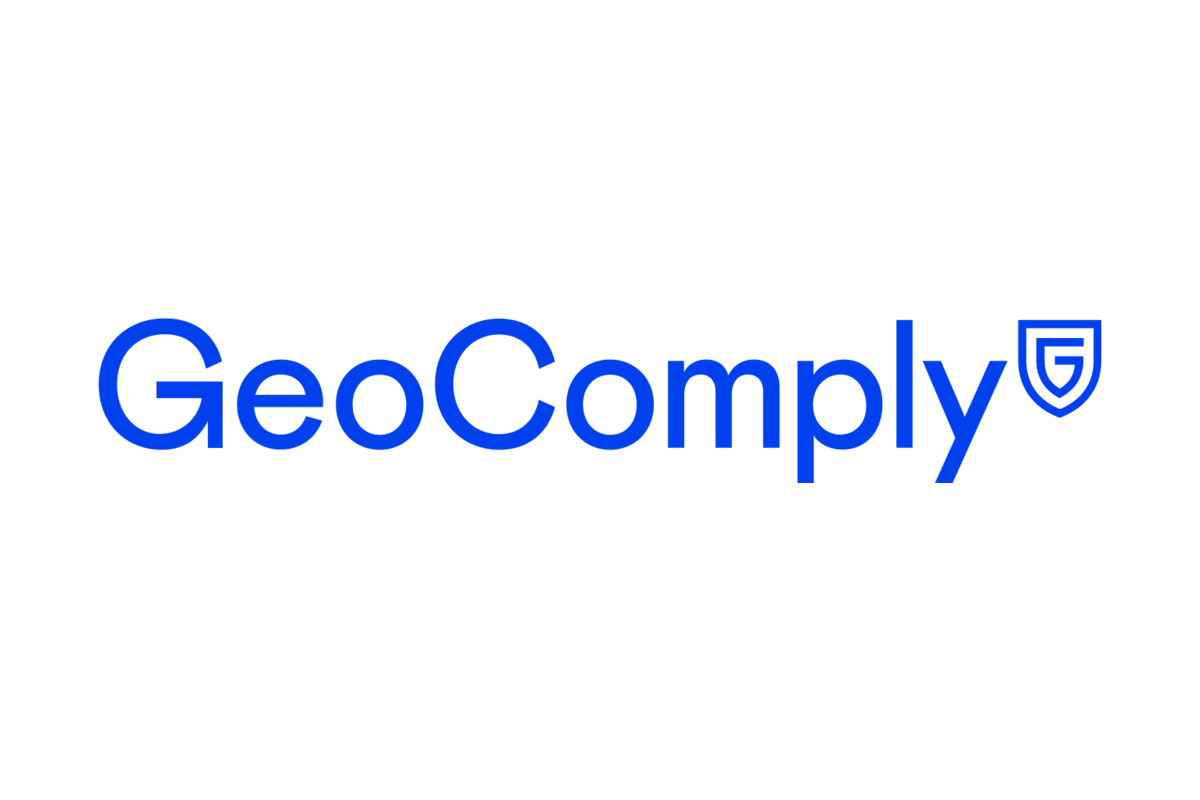 GeoComply Solutions Inc. ("GeoComply"), the market-leading geolocation, fraud, and risk solutions provider, is pleased to announce its second Challenger Series Summit, in partnership with Citi's investment bank, to be held in Las Vegas, on October 8th, 2023, before G2E.
Following the success of the inaugural New York Challenger Series event, held on May 8th, 2023, GeoComply and Citi are continuing the momentum, supporting early-stage companies and start-ups in the gaming industry by gathering industry founders and entrepreneurs to share their valuable knowledge and insights.
GeoComply's Challenger Series is designed to provide companies targeting the US-regulated gaming market with expert advice from founders and entrepreneurs with decades of personal experience on topics that include hyper-growth, payments, product innovation, marketing, post-exit strategy, and more.
Feedback from New York Challenger Summit was exceedingly positive. Attendees remarked on the quality of panelists who spoke on relevant topics for their emerging businesses. The carefully curated thought leadership panels and additional time for networking allowed attendees to forge meaningful relationships within the gaming community.
GeoComply Co-Founder David Briggs commented, "We are so thankful for all the industry leaders who shared their time and expertise at our first event. The ability to bring together top gaming founders and entrepreneurs in one room to speak on tackling the North American market and its challenges is an invaluable experience for all emerging business owners. Our goal is to continue to support this community and build this space for connection and relationship-building."
What: The Challenger Series – Vegas Summit
Where: Bellagio, Las Vegas, Nevada
When: October 8th, 2023, 2 pm – 6 pm PST
Presenters: Paul Liberman (DraftKings), Lesley Eccles (HelloRelish Inc), Joey Levy (Betr), Nik Robinson (Big Time Gaming), Nan Wang (Sleeper), Matt Davey (Tekkrop Capital LLC), Scott Longley (Clear Concise Media), Anna Sainsbury (GeoComply), David Briggs (GeoComply), Andrew Fabian (Citi)
Attendees will have the opportunity to meet founders, market leaders, and visionaries during and after the event which will end with a networking cocktail hour on the Bellagio balcony overlooking the city.
Gaming Americas Q3 Meetup: US Legislation Round-up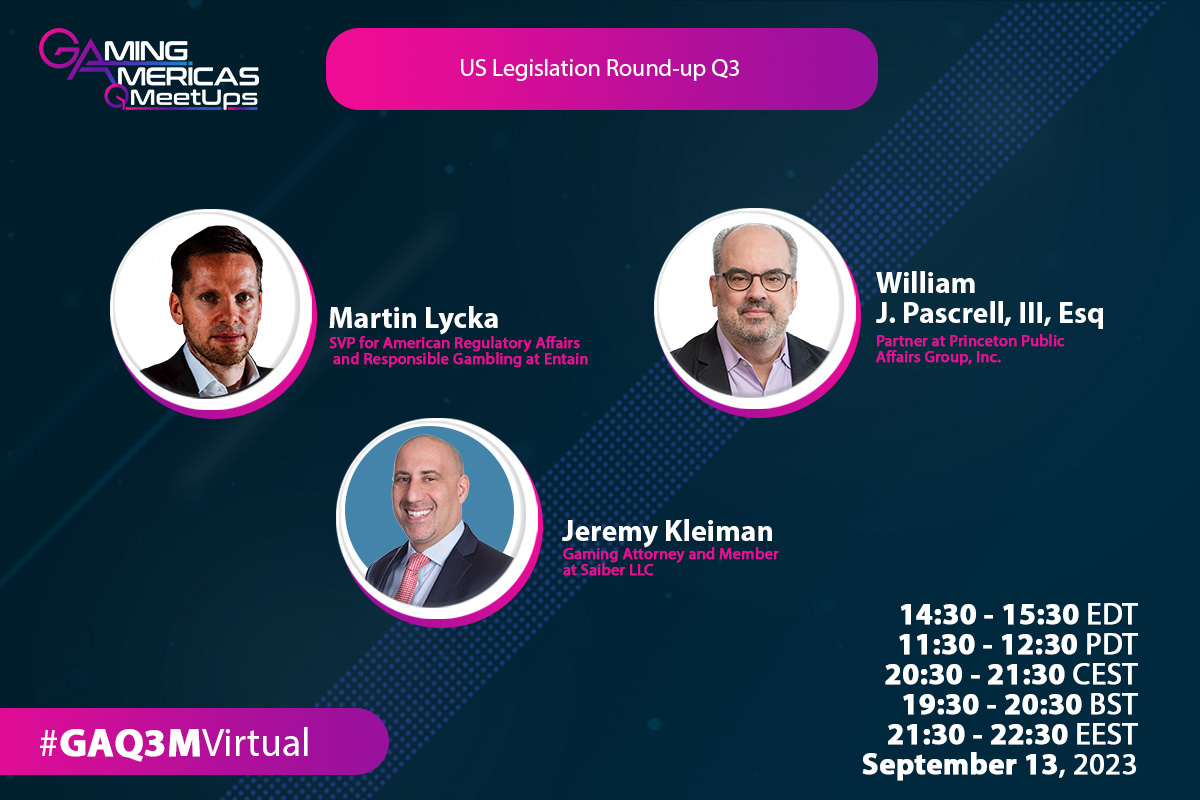 The Gaming Americas Quarterly Meetups by Hipther Agency are designed to keep you up-to-date with what is fresh in the North American and Latin American gambling industry.
The meetups feature several panel discussions per region and topics that are joined by key industry experts, CEOs, C-Level Executives, Business Development Managers, and sometimes government officials/regulators.
The Gaming Americas Q3 Virtual Meetup that took place on September 13 brought back the quarterly US Legislation Round-up with our favorite experts, Bill Pascrell, III (BP3), Partner at Princeton Public Affairs Group, Martin Lycka, SVP for American Regulatory Affairs and Responsible Gambling at Entain, and Jeremy Kleiman, Gaming Attorney and Member at Saiber LLC.
Gaming Americas Q3 Session 2: US Legislation Round-up
Speakers: Bill Pascrell, III (BP3) | Martin Lycka
Moderator: Jeremy Kleiman
Watch the Session on YouTube and HiptherTV!
In this edition of the US Legislation Round-up, moderator Jeremy Kleiman immediately delved into the major developments of the past quarter. He invited Bill Pascrell to kickstart the conversation with insights into Florida's online sports betting launch, thanks to the Seminole-Hard Rock collaboration.
Bill shared his unique perspective, having represented Hard Rock International for the last 11 years. He revealed that while Hard Rock had initially launched betting, legal challenges forced a temporary shutdown. However, recent legal developments suggest that Hard Rock is poised to relaunch on September 19th. Bill credited this success to Jim Allen, Chairman of Hard Rock International and CEO of Seminole Gaming, as well as the entire Hard Rock Team and the Seminole Tribe.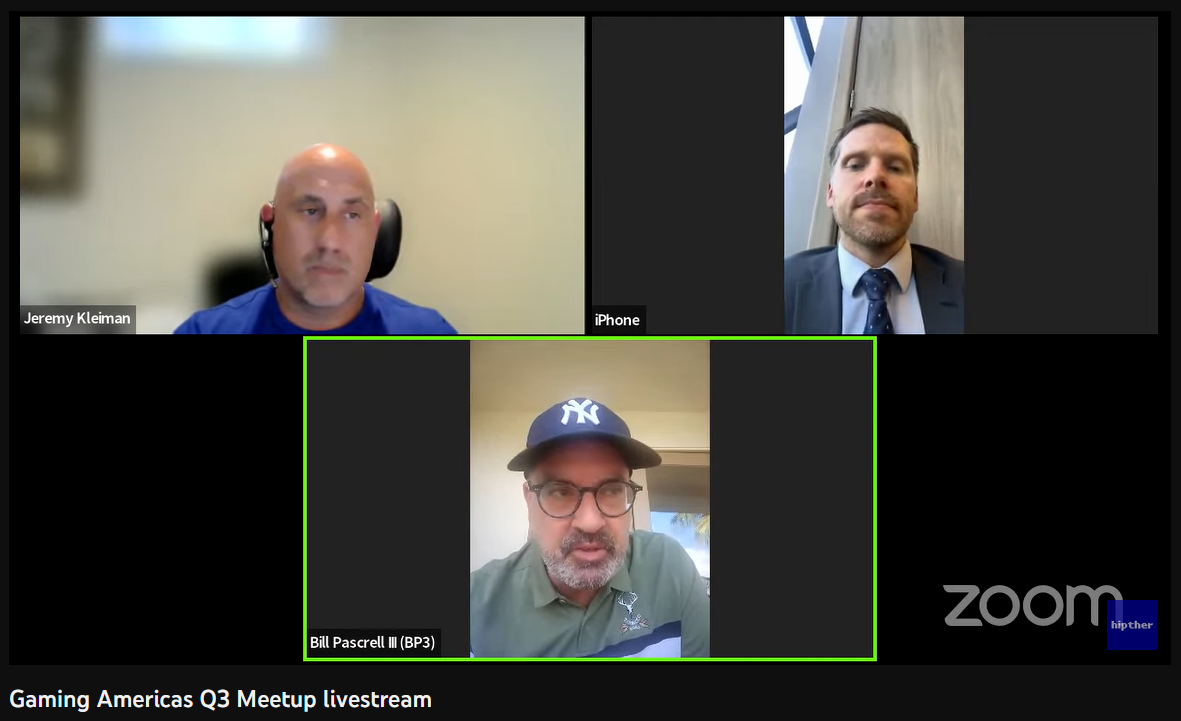 Bill also touched upon the legal complexities surrounding this case, especially regarding the Indian Gaming Act. He expressed excitement about Florida becoming the largest state in the nation to launch sports betting, emphasizing the enormous opportunities it presents.
Jeremy followed up by asking about the regulatory framework and potential collaborations with Hard Rock. Bill explained that opportunities for collaboration, both online and in retail, hinge on the Indian Gaming Act's provisions. He also hinted at the possibility of ancillary services and additional partners.
Martin Lycka joined the conversation, emphasizing that Florida's unique regulation is an example of the intricacies in US gambling and sports betting laws. He discussed the tax rates and restrictions in Florida and how four key states, including New York, California, and Texas, will shape the future of the US market.
The discussion then shifted to California, where Bill discussed the need for a ballot referendum due to the state's complex political landscape and gaming entities.
Regarding Texas, Bill shared that it has no history of gaming, with many Texans crossing state borders for gambling. Regulatory attempts in the state have thus far failed, with potential regulation expected in the spring of 2025.
The conversation touched on the crucial role of professional sports teams in shaping gaming regulation. Bill emphasized that these teams will be license holders for venues and possess significant political influence.
Martin pointed out the cultural contrasts in Texas, a conservative state with popular sports teams eager to embrace sports betting. He also drew attention to New York's high tax rate, which poses challenges for operators.
Jeremy shifted the discussion to responsible gaming, with Martin informing us that September is the Responsible Gambling Education month in the US, underscoring the importance of responsible gaming education throughout the year.
In summary, our panel of American gaming specialists provided a comprehensive session with valuable insights into US gambling legislation. They highlighted both the challenges and progress in key states, setting the stage for the future of the industry.
Watch the full US Legislation Round-up for Q3 on HiptherTV
Stay tuned for Session 3 of the Gaming Americas Q3 Meetup and the special focus on "AI Issues"!
BMM Testlabs Receives First Brazilian License in Paraná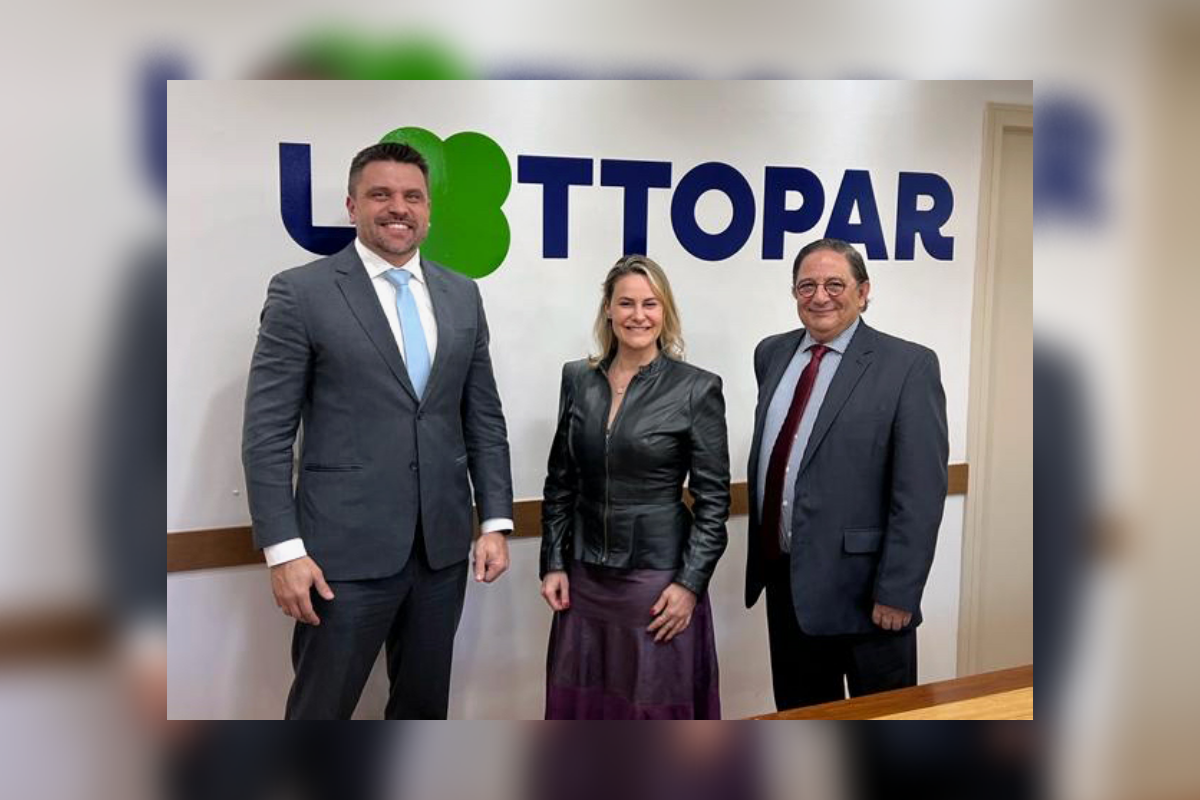 BMM Testlabs, the world's original gaming test lab and product certification consultancy, is pleased to announce that BMM Testlabs Spain has been approved as a testing and certification laboratory for the games and lottery industry by Paraná; State Lotteries.
Marzia Turrini, Executive Vice President, EURSAM, commented: Paraná State Lotteries (LOTTOPAR) initiated a public call for accreditation earlier this year, inviting interested laboratories to apply for the license to serve in this jurisdiction for betting and lottery games. This is the first jurisdiction regulating laboratories in Brazil, which demonstrates understanding of the importance of the testing and certification of gaming devices in the region. BMM is excited for the opportunity to serve in this Brazilian jurisdiction and would like to thank LOTTOPAR for their support during the application process.
Paraná State Lotteries signed an accreditation agreement authorizing BMM Testlabs to collaborate with lottery and fixed-odds betting operators, including sports betting, for the purpose of testing and certifying gaming products and systems. This accreditation extends to electronic games, lottery systems, gaming machines, online platforms, and other related components.
The accreditation signing ceremony on Friday, September 15, 2023, was attended by Daniel Magarios (Sales Manager for South America, BMM Testlabs), Analice Castor de Mattos (lawyer representing BMM Testlabs Spain), Daniel Romanowski (Chief Executive Officer, LOTTOPAR), Rog&#e9;rio Nogueira (Chief Financial Officer, LOTTOPAR), Fabio Veiga (Chief Operating Officer, LOTTOPAR), Rafael Halila (Chief Technology Officer, LOTTOPAR), Stefanny Fernandes (Chief of Staff, LOTTOPAR), and Simone Marin Israel (Operations Directorate, LOTTOPAR).