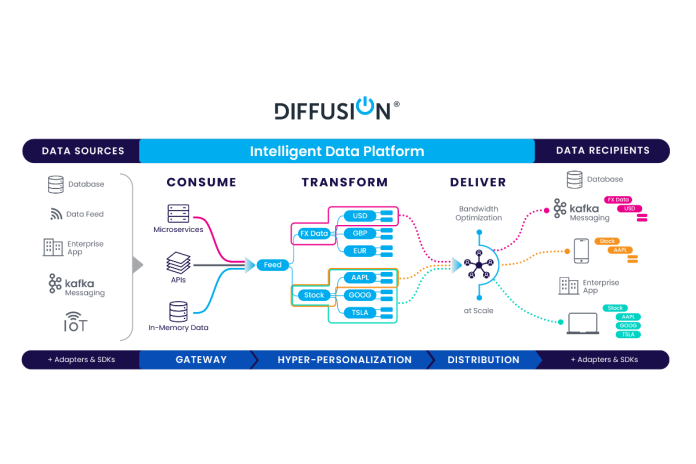 DiffusionData, formerly known as Push Technology, the pioneer and leader in real-time data streaming and messaging solutions, today announced the final details of the company's business realignment strategy to meet the digital transformation needs of the broad range of markets it serves.  The last step is to present the renaming of the company to assure absolute clarity on the corporate mission —  to manage and reduce the costs of data Consumption, Transformation, and Delivery in real time at Internet scale.
Background
One and a half decades ago when the company was founded, digital transformation was in its infancy.  During the subsequent years, companies everywhere have worked to determine what components are required for a smooth digital transformation journey.  It has been generally understood that data must be delivered in real time at Internet scale.  However, in order to achieve this goal, there cannot be restrictions on data consumption, and low-code functionality to enable data enrichment and transformation is required.  Most importantly, the orchestration of the data journey throughout these stages requires platform intelligence which removes the hassles of data handling from the development teams enabling them to focus on critical business requirements and deliver applications to market faster.
The Key is Platform Intelligence
As with most things the devil is in the detail.  The key to successfully orchestrating the stages of the data journey, is built-in platform intelligence every step of the way.
Platform intelligence is invaluable because it allows companies to:
Reduce Operational Costs – by increasing the capacity of existing in-place hardware and optimizing infrastructure because Diffusion is a cache and a stream, benefiting from a subscription rather than polling model which optimizes communication and ensures updates are propagated in real time, delivering hyper-scalability with a reasonable TCO, and using Diffusion's proprietary Delta Data algorithms which only send data that has changed.
Speed and simplify development – with low-code data transformation engine.
Hyper-personalization via hierarchical data structures and granular access control.
Grethe Brown, promoted to Chief Executive Officer to formulate and execute the corporate alignment strategy, said: "Companies require intelligent systems to save them development time and money as well as reduce ongoing operational costs of building and running next generation mission critical corporate applications.  Our Diffusion Intelligent Data Platform is a breed apart from the traditional tools available in the market to support the digital transformation requirements of companies we serve across the globe."
About DiffusionData
DiffusionData pioneered and leads the market in real-time, data streaming and messaging solutions that dramatically reduce network bandwidth requirements, allowing customers to expand their businesses.
The company's Diffusion® Intelligent Data Platform, consumes raw data in any size, format, or velocity; enriches the data in-flight; and distributes the data in real time — reliably and at massive scale with secure, fine-grained, role-based access control. Diffusion is purpose-built to simplify and speed data-driven, real-time application development, reduce operational costs, and economically deliver hyper-personalized data at Internet scale.
Leading brands, across industries including financial services, transportation, energy, retail, healthcare, eGaming, and Internet of Things companies, use the Diffusion Intelligent Data Platform to drive customer engagement, fuel revenue growth, and streamline business operations. Diffusion is available on-premise, in-the-cloud, or in hybrid configurations, to fit the specific business, regulatory, and infrastructure requirements of the event-driven applications operating in today's everything connected world. Learn more at www.diffusiondata.com.