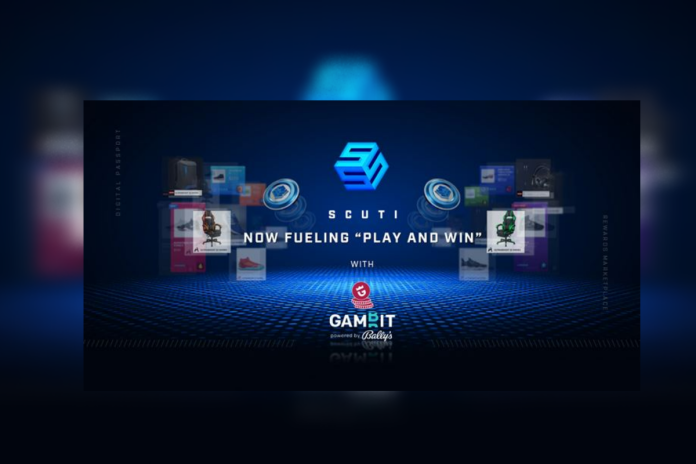 Gambit's Free-to-Play Betting and Gaming Platform Partners with Scuti's Rewards Marketplace, Offering Dual Revenues to Players and Brands
Scuti, the pioneer of gCommerce and the world's first universal rewards marketplace, today announced their partnership with Gambit Rewards, a regulator-approved consumer network that integrates loyalty programs with online gaming and sports betting in America. This partnership will allow Gambit members access to the Scuti Marketplace and full integration to Scuti-based platforms and rewards. Players will be able to purchase physical goods through Scuti and use their rewards to place free bets on Gambit's platform.

Created by an experienced group of video game veterans, Scuti's marketplace provides players direct access to curated products, promotional offers, and rewards. These rewards can be redeemed for in-game virtual items, exchanged for native currency, or used to purchase any physical goods in the Scuti catalog. Gambit joins Scuti's growing list of video game and metaverse partners who are providing their players access to Scuti's gCommerce and rewards marketplace.

"Partnering with Scuti is a natural extension of the user experience," said Richard Pistilli, founder and CEO of Gambit. "Together, we can bring Gambit's unique take on free-to-play betting with real cash prizes to the gaming community at large. Scuti's audiences enjoy in-game experiences, and Gambit turbo charges that with risk-free betting."

Players can now swap their rewards, called Scuti$, for Gambit tokens to activate risk-free wagers on any game of choice and win cash or other prizes at no personal cost. Each purchase of consumer goods from the Scuti Marketplace rewards players with up to 5% of the purchase prices, in Scuti$.

"We see this partnership as a pivotal turn for gCommerce and rewards in the betting and gaming arena," said Nicholas Longano, Founder and CEO of Scuti, "Play-to-earn games are moving mainstream and this partnership makes it easier for players to enjoy gaming with rewards fueled from the very products they purchase every day. Gamers can now shop or play-to-earn and use those rewards to place bets that come at no personal cost."

Through Scuti, players discover fully curated products and promotional offers from top brands directly from their games. Players receive brand-fueled rewards with every engagement and purchase they make through the Scuti marketplace.  Because Scuti is a universal rewards system, players can earn and redeem Scuti$ from any game on any device connected to the Scuti network, including Gambit Rewards.