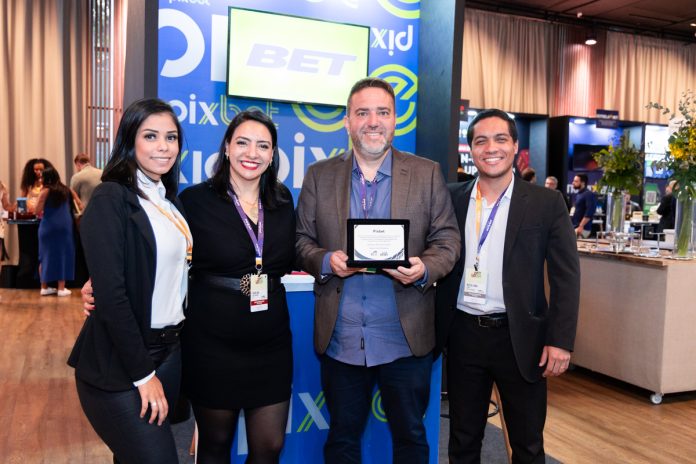 The potential and future of the sports betting and gaming sector in Brazil was intensely debated by experts and players from the world industry on June 28, 29 and 30 at the second Brazilian iGaming Summit (BiS 2022) and first Afiliados Latam, in São Paulo . PIXBET, the bookmaker that most sponsors football teams in the country and is fully committed to the Brazilian public, was present throughout the event and members of its team contributed to the conversations about the Brazilian market by participating in the panels.
In addition, PIXBET was awarded in the second edition of the Brazilian iGaming Awards, an exclusive ceremony for the iGaming market that ended the program for the first day of the main betting event in the country.
Leading company in the segment, PIXBET was extremely honored to win the other nominees in the 'Sponsorship of the Year' category. Held for the first time in December last year, Brazilian iGaming Awards is an award that honors professionals and brands that are standing out and making a difference in the area.
Winning a specific award in a category that praises partnerships signed by companies only demonstrates PIXBET's commitment to continue supporting the Brazilian sports scene with activations, new campaigns and special promotions for the public. The leading company in the sector also made a point of exploring all the possibilities provided by BiS 2022 and Latam Affiliates, taking the opportunity to increase the visibility of its sponsorships to traditional Brazilian clubs with the exposure of a series of official uniforms with its stamped brand.
The Head of Sponsorships, Influencers and Activations at PIXBET, Mateus Lemos explained the importance of participating in such an event: "The event is very important because the main players in the betting market, affiliates and related areas are present. And, this is very good because we never know tomorrow and how we are going to do new business".
Lemos added: "PIXBET's idea is to stay in the event, as we are also in the clubs to mark and show who we are and our positioning. And PIXBET itself, also in its greatness, brings disclosure, representation and shows that in fact we will always be active in the market and that we are here to stay and we will stay".
The bookmaker once again shows that it remains attentive not only to new market trends, but also to the demands of Brazilian players. For this reason, PIXBET has recently inserted an entire section dedicated to the competitive eSports circuit, an area that is gaining more and more fans in Brazil. The company also stands out for providing the best payment methods in operation in Brazil and the fastest withdrawal in the world, via PIX.