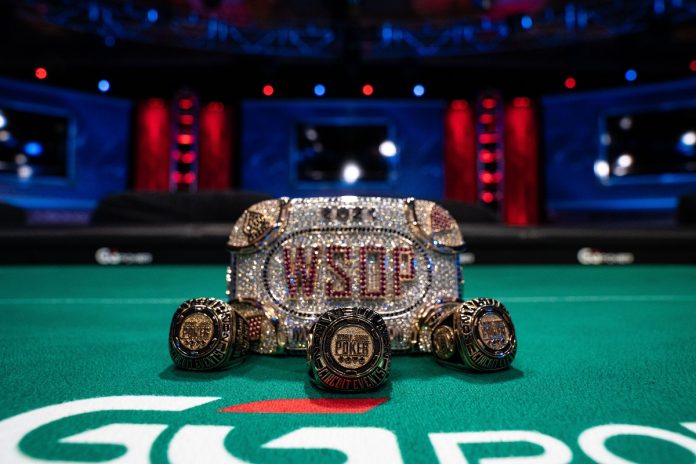 For the first time ever, poker's brightest stars will compete to win the highly-coveted World Series of Poker Main Event Gold Bracelet on the Las Vegas Strip when the WSOP Main Event kicks off Sunday, July 3. In a taste of what's to come, week five of play delivered on hard-fought victories, thrilling hands and excitement with the announcement of the 2022-23 WSOP Circuit Schedule.
For real-time WSOP coverage, please visit PokerNews.com https://bit.ly/3NE36GF
Week 5 Highlights
An emotional Eric Smidinger comes out on top in Event #47: $1,000 Senior's Championship
58-year-old Colorado resident Eric Smidinger took home his first WSOP gold bracelet after a nearly three-hour heads up match against Ben Sarnoff, taking home $649,909 in cash.
Team Leonard takes the win in Event #55: $1,000 Tag Team
Patrick Leonard and Espen Jørstad earn their first WSOP gold bracelet after besting a field of 913 teams and taking home $148,067 in cash.
Paul Hizer wins his first WSOP gold bracelet in Event #51: $400 Colossus
After six years of professional poker play, Paul Hizer took home his first gold bracelet following two near misses. The Englishman bested a field of 13,565 players and took home $414,490 in winnings.
James Todd takes home his first bracelet in Event #54: $500 Salute to Warriors
James Todd bested a field of 3,209 entrants, taking home his first gold bracelet and $161,256 in one of the WSOP's charity-focused tournaments. Through the tournament, a total of $74,809 was donated to the USO and other military charities.
What To Look Forward To
Sunday, July 3 – Event #70 Day 1A: $10,000 MAIN EVENT No-Limit Hold'em World Championship
The highly anticipated WSOP Main Event kicks off with its first day of play this Sunday, July 3. The $10,000 buy in will take place starting at 11 a.m.
Saturday, July 2 – Event #68 Day 1A: $1,000 Million Dollar Bounty No-Limit Hold'em
Players will compete for a gold bracelet with a guaranteed top bounty of $1,000,000
Saturday, July 2 – Event #69: $10,000 Pot-Limit Omaha 8-Handed Championship
Players will compete in a high-stakes, no re-entry tournament for a chance at a prestigious gold bracelet
Upcoming WSOP live streams on PokerGO
Wednesday, July 6 – WSOP Main Event (Day 1D)
Thursday, July 7 – WSOP Main Event (Day 2A/B)
Friday, July 8 – WSOP Main Event (Day 2C/D)