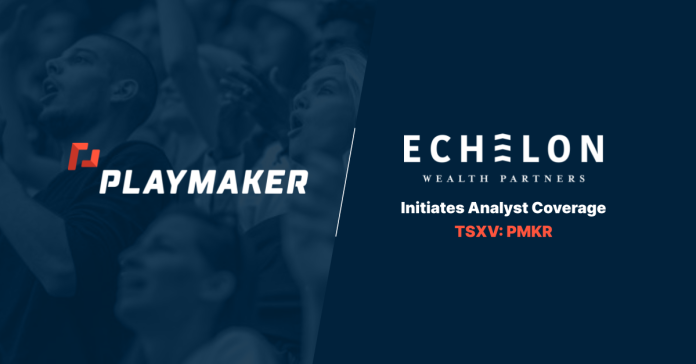 Playmaker Capital Inc., the digital sports media company that delivers authentic content experiences through its portfolio of sports media and technology brands, announced today that Rob Goff, Head of Research, and Technology, Telecom, and New Media Analyst at Echelon Wealth Partners Inc. ("Echelon") has initiated analyst coverage on the Company. Echelon's initial research report and any future reports may be obtained directly from Echelon.
"We are very excited to be supporting Playmaker and its exceptional management team, where we believe they have assembled a formidable foundation for future success", said Rob Goff, Analyst and Head of Research at Echelon. "We see continued strength in organic growth and a robust M&A playbook, insulated by engaging brands and exceptional tech capabilities, driving shareholder value for years to come."
Please note that any opinions, estimates or forecasts regarding the performance of Playmaker and its management made by Echelon are theirs alone and do not represent the opinions, estimates or forecasts of Playmaker or its management. Playmaker does not by this announcement or otherwise imply that the Company analyzes or approves of such information, conclusions, or recommendations.