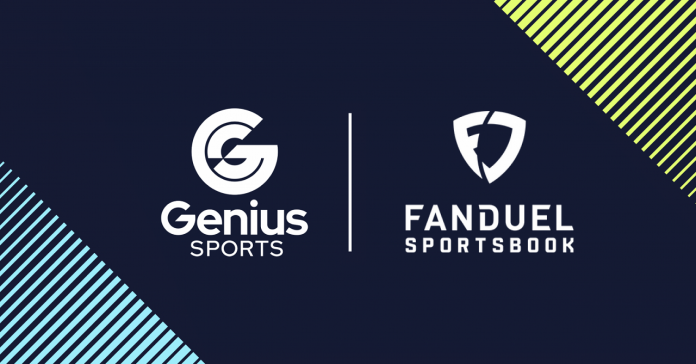 Genius Sports to provide official sportsbook, media content and NFL advertising inventory
FanDuel designates Genius Sports as a preferred programmatic marketing partner
FanDuel will implement Genius Sports' suite of official NFL data products and trading solutions
Agreement demonstrates the continual value Genius Sports provides through its position at the convergence of sports leagues, sportsbooks, and ad-tech
Genius Sports Limited today announced a new agreement with FanDuel Group to provide a range of official NFL data, content, media products and trading services.
In April 2021, FanDuel was selected as one of the NFL's official sports betting partners. In the same period, Genius Sports became the league's exclusive live streaming partner and distributor of real-time official play-by-play statistics, providing sportsbook partners including FanDuel with access to the NFL's proprietary Next Gen Stats (NGS) data, and official sports betting data feed.
FanDuel, America's #1 sportsbook and the largest mobile betting operator in the U.S., will implement Genius Sports' NFL offering. Genius Sports represents the NFL's legalized sports betting advertising inventory across the league's owned and operated digital platforms. These assets alongside the NFL's official data feeds, will create value for FanDuel across the full player lifecycle from player acquisition to pre-match and in-game betting, through to long-term customer retention.
Alongside NFL content exclusive to Genius Sports, FanDuel will also have access to Genius Sports' official data-powered in-play content and live trading solutions across multiple sports and thousands of live events. Genius Sports has exclusive official data partnerships with NASCAR, the English Premier League, LigaMX, Argentinian and Colombian soccer and hundreds of other leagues and federations worldwide.
"We are delighted to partner with FanDuel to help them create the most compelling and contextual sports betting experience possible," said Mark Locke, CEO of Genius Sports. "With official data at its heart, this partnership enables FanDuel to better engage and monetize its customer base at every step of their journey. We couldn't be more proud to be expanding our relationship with a clear giant of US sports betting in a way that entirely validates our long-held strategic vision."
"We are always looking for ways to improve our product and the data opportunities gained via this agreement help FanDuel achieve that objective," said Niall Connell, General Manager of FanDuel Group. "The new suite of offerings including official NFL data will enable us to better serve our customers and enhance America's #1 Sportsbook."