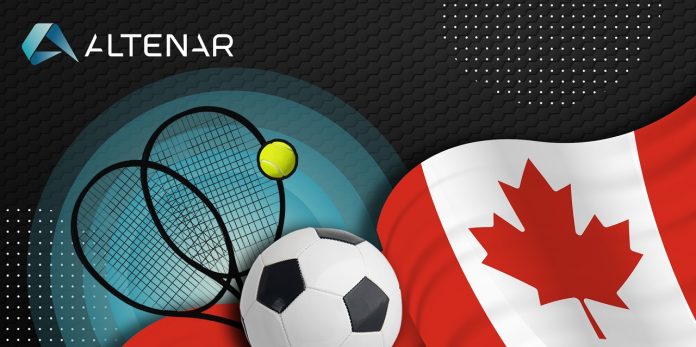 The newly regulated market of Ontario, Canada, is rich with possibilities, with a customer base that is passionate about the world of sports and a demand for betting to match. Antonis Karakousis, Director of Operations at Altenar, discusses the potential of the province and how the company is setting out to provide the market with a best-in-class sports betting offering.
Congratulations on Altenar's Ontario licence and your debut in Canada! Can you talk us through the licensing process and how long this has been in the works?
We had to meet a list of standards and a variety of requirements, as well as auditing our sportsbook with an independent test lab, but the potential of this province means it was more than worth the challenge. We continue to make worldwide progress as a company and going live in Ontario is proof of that.
Looking to the Canadian market – how do you see the development of Ontario as being a platform for kick-starting regulated online betting across the rest of the country?
Ontario has set the standard for how the rest of Canada can move into regulated gaming. The potential is clear to see: iGaming Ontario, a subsidiary of the Alcohol and Gaming Commission of Ontario, has reported that Ontario's igaming revenue for the quarter ending June 30 came to CA$162m (£106.1m/€123.9m), the first quarter on record after the market opened in April this year. There were also 492,000 active player accounts within the quarter, which spent an average of $113 per month. There's a robust, fair regulatory regime in place, along with a knowledgeable sports and betting audience. I am sure the rest of the country will follow Ontario's example.
On entertainment and engagement – what's Altenar got in store for Canadian players? What are your team planning to bring to the table to really start making a difference for operators?
Ontario's sports fans and bettors deserve the best betting opportunities, and we're excited to now offer them Altenar's tier 1 product, which includes: competitive parlays and teasers, a bet builder, a variety of player props, boosted odds, official data of North American Leagues, and a native mobile application.
From your experience, which verticals are going to be key for the Canadian market? How popular are the likes of virtuals and esports compared to the more mainstream NHL?
I believe that esports is the next big thing. The NHL and NFL will remain the kings of traditional betting activity, but we have noticed huge growth in esports and this is where the greatest potential lies. It represents a great way to reach a younger demographic and tap into a new audience. It is being taken seriously on all fronts – esports has been mentioned as a possible Olympic sport and was included as a demonstration event at the 2018 Asian Games, which has previously served as a gateway for judo and taekwondo to become Olympic sports.
Talk us through the next 12 months for Altenar – how do you see yourselves getting going in Ontario?
Betting with a licensed provider always means peace of mind and added security. We are proud to be one of the first igaming sports betting providers regulated by the Alcohol and Gaming Commission of Ontario and we look forward to applying our expertise to help build a trusted and competitive Canadian sportsbook.