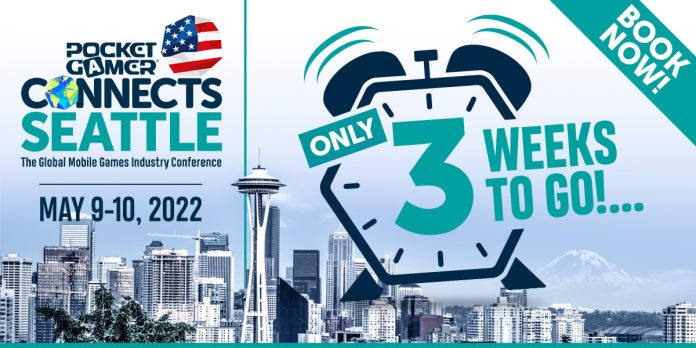 Join more than 500 companies as the leading international conference for the global mobile games industry heads to the US West Coast.
Pocket Gamer Connects, the leading b2b mobile games industry conference, is heading back to the US for a live event after more than two years of digital conferencing through the pandemic. The event takes place on May 9-10 and will welcome some 1,000 professionals from 500+ leading companies representing the entire games industry ecosystem.
This May, Pocket Gamer Connects Seattle attendees will have the opportunity to meet and connect with one another both on-site in Seattle and virtually through Zoom, as well as have full access to seminars, talks and panel discussions delivered by more than 150 industry experts across an inspiring two day schedule.
Pocket Gamer Connects is an unparalleled opportunity to network with top games industry companies from across the globe. Since the first Connects conference in 2014, the team has developed a stellar reputation for delivering the highest quality games industry events with the very best opportunities to expand your network and make moves that will push your business forward. Attendees will have the chance to connect with more than 500 leading companies including Netflix, Wizards of the Coast, Super Evil Megacorp, Xbox Games Studios, Hyper Hippo, Bungie, Riot Games, Wargaming and many more.
Alongside a wealth of opportunities to do business, you can also expect to see some of the most exciting speakers in the games industry right now discussing all the hot topics from monetisation and growth strategy, to industry visions and values, live ops and global trends. The speaker lineup includes Playrix's Marianna Vallejo, Riot Games' Josh Menke, Pearl Abyss America's Jeonghee "JJ" Jin, Netflix Games' Leanne Loombe, Xbox Games Studios' Crystin Cox, Bungie's Jon Chu, Activision Blizzard King's Kathy Shin and more than 150 other industry leaders with priceless knowledge to share. The full conference schedule is available online now so you can see all of the insightful sessions and elements that make up this exciting two-day event.
The future of games is here: Explore Blockchain, NFTs, Web3 and the Metaverse
As part of Pocket Gamer Connects Seattle, you can also attend the Blockchain Games NEXT Summit: a dedicated two-day summit focusing on the next wave of web3 games technology.
Blockchain, NFTs, web3 and the metaverse are undeniably the hottest topics in the gaming space right now and this summit is designed to provide a space to explore the potential scale of the market and the best way to implement these technologies. Attendees can expect to hear inspiring and future-gazing talks from the likes of Ten Square Games' Patrick McGrath, Survios' Alex Silkin, Pole To Win's Kaley Hurst, THNDR GAMES' Desiree Dickerson, The Sandbox's Mathieu Nouzareth, COM2US USA's Kyu Lee, M2 Insights' Wanda Meloni and many more.
Connecting the global mobile games industry in Seattle
Steel Media COO Dave Bradley is looking forward to being back on the US West Coast in just a few short weeks: "It's going to be wonderful to be back meeting people, networking, doing business, and making new connections. That's why it's called Connects! Seattle is a buzzing scene – the home of so much innovation and creativity, so we can't wait to return in person, after a couple of years of only seeing friends and colleagues on Zoom."
He continues: "Across three stages at the Grand Hyatt, our international experts will be sharing insights on everything from the basics of finding the right monetization method for your game to succeeding in the metaverse. Talks are short and sharp so there's always something new to discover. It's going to be a really intense, productive couple of days downtown."
Secure your spot at Pocket Gamer Connects Seattle today and meet with leading games industry figures this May 9-10.