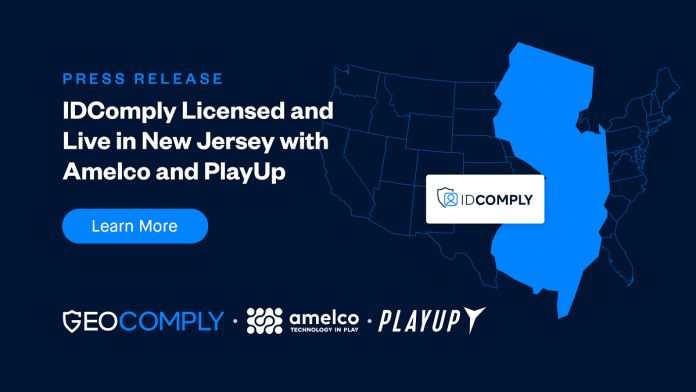 GeoComply Solutions Inc. today announced that its KYC solution for the iGaming industry, IDComply, has been fully incensed in New Jersey, and launched in the state with Amelco and PlayUp. In addition to age and identity verification via IDComply, GeoComply will be providing Amelco with geolocation compliance for the PlayUp online sports betting platform. IDComply's license in New Jersey validates the product has met some of the most stringent requirements in the U.S. for KYC solutions.
IDComply provides operators with an all-in-one solution that handles KYC and digital identity verification while delivering the highest possible levels of player-acceptance in a compliant, fast and low-friction model.
The New Jersey Department of Gaming Enforcement (DGE) not only requires data verification for KYC but also a secondary form of authentication, either knowledge-based authentication (KBA) or digital identity authentication, in order to validate an account. IDComply supports both of these secondary forms of authentication, providing a great user experience and ensuring that all genuine players are able to quickly and easily onboard.
"As a technology-first company we wanted to ensure our regulatory approval in New Jersey included the latest offerings from our tech partners and leveraging GeoComply's IDComply product was central to that process, says Dr. Laila Mintas, CEO of PlayUp. "With some of the most stringent requirements and rigorous testing of any state, achieving this milestone in New Jersey has positioned PlayUp for continued success as we expand into additional U.S. states. GeoComply's proven KYC and geolocation compliance solutions along with their experience and expertise has really made a huge impact in being able to quickly scale our business."
As a trusted supplier to the iGaming industry, GeoComply developed IDComply in response to customer requests for an integrated solution that covers more of their compliance requirements beyond geolocation. By integrating age and identity verification along with GeoComply's award-winning geolocation compliance, iGaming companies are able to streamline their operations and manage both their geolocation and KYC compliance from the same back-office and API.
"KYC and geolocation compliance are two cornerstones of the iGaming industry and we are very happy to have been able to help operators like PlayUp get their own products licensed," says Lindsay Slader, Managing Director of Gaming at GeoComply. "The DGE really sets the standard for compliance in the U.S. so getting IDComply licensed in New Jersey is a real achievement for our company. We see stringent compliance controls as critical to the integrity and success of the industry."