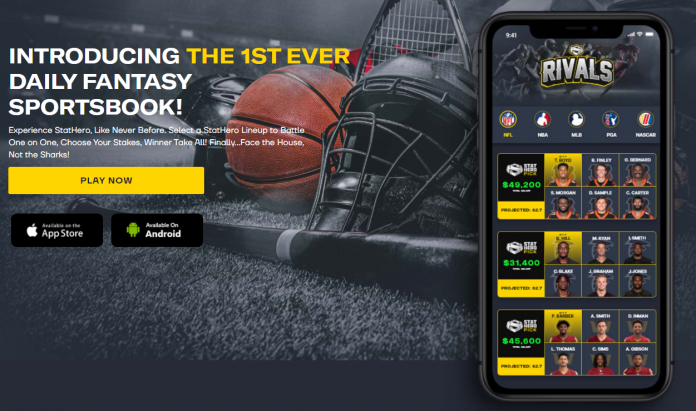 Player vs. the House-style game to transform industry landscape and elevate DFS to a sportsbook experience
StatHero, an innovative leader in the Daily Fantasy Sports (DFS) industry, known for its fantasy survivor pools and leveling the playing field for its customers, announced the launch of Rivals, StatHero's Daily Fantasy Sportsbook — a new DFS game format allowing users to play 1-on-1 against StatHero (the House). Rivals is unlike most DFS games that require users to play within a larger group, making it the first game of skill DFS sportsbook on the market. StatHero's Rivals structure mimics a true sportsbook with no edits, time stamps, and dynamic odds. Players just set their buy-in and create the best line-up under the salary cap to beat StatHero's line-up.
Rivals currently has live games for the NBA, PGA, NHL and the NFL playoffs, and is operational in the 32 states that StatHero is available. This national launch provides users in states where sports betting is not legal, like California, Florida and Texas, a sportsbook experience while playing a game of skill.
Rivals distinguishes itself by giving users the ability to:
Play 1-on-1 against the House: Users play against the House, rather than thousands of other users. If a user's line-up beats StatHero's, they win. The prize goes directly to the winner and is not split amongst a group.
Examine lineups before the game: StatHero will reveal their lineups in their entirety before each scheduled game. This is an advantageous feature for users that helps them gain better insight into creating the strongest line-up possible to beat StatHero.
The user sets the stakes: The object of the game is winner take-all, line-up vs. line-up, the Player vs. the House.
"For years, DFS players have yearned for an opportunity to control their own fate. A game focused on the individual, rather than beating thousands. A 1-on-1 game versus the House creates an experience that operates just like a sportsbook, giving users in states where betting isn't legal the experience that they've been clamoring for," said StatHero CEO Jason Jaramillo. "We at StatHero are excited to provide our users with the most innovative DFS platform on the market that provides greater value, more opportunities to win, and an enhanced experience that will reshape the future of DFS."
For more information on StatHero, please visit www.StatHero.com