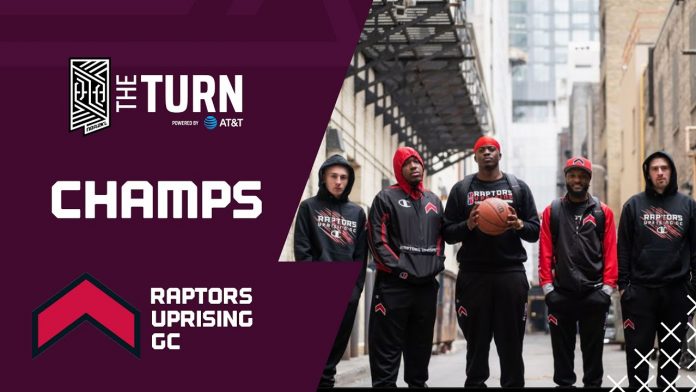 Raptors Uprising GC, NBA 2K League affiliate of the 2019 NBA champion Toronto Raptors, defeated Wizards District Gaming, NBA 2K League affiliate of the Washington Wizards, in a 2-0 series (56-51 and 54-51) to win the NBA 2K League's THE TURN Tournament powered by AT&T. Raptors Uprising GC become the first team in NBA 2K League history to win the first two tournaments of the year after capturing THE TIPOFF Tournament powered by AT&T in June.
Undefeated in regular season action, Raptors Uprising (13-0) entered the second in-season tournament with a bye into the Round Of 16 as the first-placed seed. On Thursday, Raptors Uprising cruised to a 2-0 series sweep (91-69 and 81-52) over Gen.G Tigers of Shanghai, winning each game by an average margin of 25.5 points, before eliminating 2019 NBA 2K League champions T-Wolves Gaming in a 2-0 quarterfinal series (77-50 and 62-58) on Friday. Earlier this afternoon, Raptors Uprising defeated THE TIPOFF losing finalist Kings Guard Gaming in a 2-1 semifinal series (72-60, 58-73 and 63-56) to book the team's second Finals appearance in franchise history.
Kenneth "Kenny Got Work" Hailey, the franchise's first-ever draft pick, was named the tournament's Most Valuable Player, averaging 28.8 points and 8.6 assists through 9 tournament games including averaging 26.0 points per game in THE TURN Finals. With the accolade, the 30-year-old point guard becomes the first multi-tournament Most Valuable Player award winner in NBA 2K League history after winning THE TIPOFF MVP last month.
For the second consecutive year of THE TURN, the NBA 2K League implemented an "Archetype Ban," introducing an added layer of team strategy as specific player archetypes were limited based on the selection of the opposing team. This year, up to six archetypes were banned in a three-game series with each ban impacting both teams.
All teams participated remotely from their respective local markets for a total prize pool of $260,000 USD, the league's biggest prize pool ever. All five Raptors Uprising players that featured in THE TURN competed from the team's residence and state-of-the-art training facility known as the Bell Fibe House, located in Toronto. After winning 8 of the team's 9 games at THE TURN, Raptors Uprising take home $117,000 USD in prize money, with losing finalist Wizards District Gaming receiving $52,000 USD while Kings Guard Gaming and Jazz Gaming each receive $22,100 USD after finishing third and fourth in the tournament. Raptors Uprising will also receive THE TURN championship plaque, one of three plaques awarded to the three in-season tournament champions that altogether form THE BANNER CHAIN powered by AT&T.
With the conclusion of THE TURN, the NBA 2K League's regular season will resume on Tuesday, July 28. League teams will continue participating in regular season gameplay remotely through the end of the regular season in Week 14 (August 4-7). Games will continue to be broadcasted live on the NBA 2K League's Twitch and YouTube channels starting 7 p.m. ET every Tuesday, Wednesday, Thursday and Friday with a minimum of four distinct matchups each night.
Raptors Uprising (13-0) return to regular season action in Week 13 when they face Kings Guard Gaming (9-4) on Wednesday, July 29.