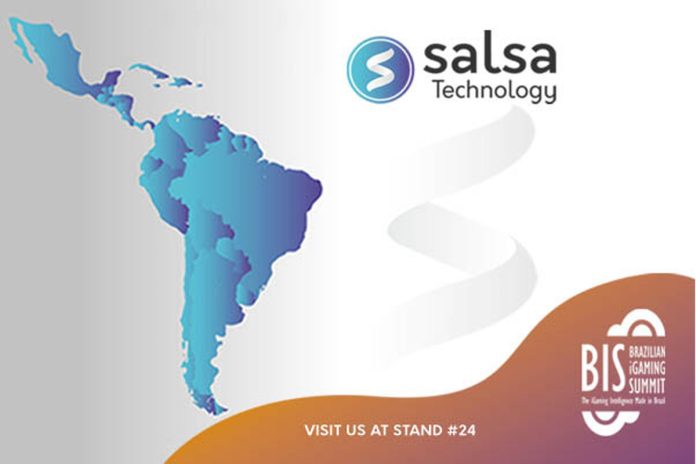 Salsa Technology is to feature prominently in the debut edition of the Brazilian iGaming Summit, BiS 2021, which takes place between 1st and 2nd December at Espaço Boulevard JK, in São Paulo, Brazil.
This will be the first time that Salsa has showcased its new brand at a face-to-face event in Brazil, both at its stand, and in numerous branding opportunities during the event. Each action will promote Salsa as the leading B2B technology and customised solutions provider for the iGaming industry in Latin America.
At the stand, the Salsa team will present the four pillars of the company's business: Salsa Omni, the omnichannel online gaming platform; Salsa Gator, the content aggregator that is LatAm's largest focused game library; Salsa Studio, the game developer studio responsible for acclaimed video-bingo titles such as Jogo dos Bichos Praia, Super Pachinko 3D, Halloween Groove and Cuca Swamp; and finally the consulting hub Salsa Solutions, which offers services such as setting up and managing Call Centers, among other elements, always focusing on localisation.
Two of these pillars are competing for the debutant BiS Awards, in the "Best Platform Provider" and "Best Game Producer" categories. The award ceremony will take place at the end of the first day of the event, during the official cocktail party. Salsa Technology founder Peter Nolte was one of the nominees for the "Outstanding Professional" category.
Salsa will also be part of the event's conference programme, as Peter Nolte will participate on two panels. On the first day, at 3:30 pm, Salsa's founder and Thomas Carvalhaes (Hero Gaming) will address the topic "Other Gaming Modalities and the Brazilian Scenario" with the moderation of Sergio Garcia Alves, who is President of the Gaming Law Commission of Brazilian Bar Association (OAB/DF).
On the second day, 12/02, at 12:30 pm, it will be Peter's turn to assume the role of moderator on the Game Providers panel. On this occasion, the Salsa executive will orchestrate the chat between other industry experts: Jesus Rafael Campos (BetConnections), André Schuartz (Pipa Games), Johnny Ortiz (Zitro Games), Erick Mendez (Evolution) and Ramiro Atucha (Vibra Gaming).
Salsa Technology founder Peter Nolte said: "We are delighted to be able to participate in this event and meet face-to-face with our friends and partners in the industry. It is essential to discuss the importance of regulation in Brazil and how it helps develop business sustainability. Our focus at the event is to show operators who want to operate in Brazil that we are the best partner thanks to our LatAm DNA and our expertise in localisation and customised solutions".